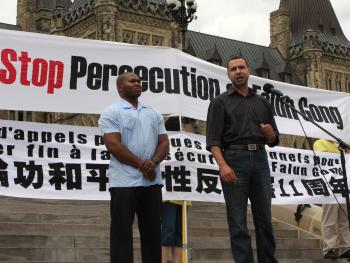 OTTAWA—Falun Gong practitioners rallied on Sunday in Ottawa to seek help from the Canadian government as they marked 11 years of persecution by the Chinese communist regime.
About 100 practitioners from Ottawa, Montreal, and Quebec City gathered on Parliament Hill in the afternoon, followed by a protest in front of the Chinese embassy.
The events were co-organized by Falun Dafa Association of Canada (FDAC) and One Free World International (OFWI), a Toronto-based human rights group that works for the rights of religious minorities worldwide.
"Eleven years ago, on July 20, 1999, the Chinese government declared a war against the Falun Gong and their belief. They declared a war against human rights, freedom of religion. Eleven years later, we are standing here. They will never ever succeed to stop the Falun Gong movement," said Rev. Majed El Shafie, OFWI founder and president.
The persecution is not an issue that only touches Falun Gong, Rev. El Shafie said. "It belongs to every human being."
The other speakers were similarly impassioned in their support to Falun Gong, whose adhernts have suffered arrest, unfair trials, torture, sexual violence, and killings, as reported by the United Nations, Amnesty International, and other human rights organizations and world bodies.

"We're going to tell the world that this is wrong in China and it is wrong anywhere else in this world," said Pastor Lyle Notice of the Ottawa Seventh-day Adventist Church. Noting that he was following in the spirit of Jesus and Martin Luther King Jr., he urged all people to stand "with one voice against the evil."
"Change is going to come, as long as we gather together in unity. I believe today we're making a difference," he said. "I believe freedom will come to the people of Falun Gong."
Francis Yelle of the South Sudan-Canada Association said that although his group is not Chinese, "we are here today because of the people in China who are suffering." He called on the Canadian government to take action and urged Falun Gong practitioners not to give up but to continue to raise awareness and seek an end to the persecution.
"If you pass a message to two people, then you pass to four people, because the two people will meet other people, and then the message will be carried," he said.
David Kilgour, a former MP and Secretary of State for Asia-Pacific, noted that the human rights violations in Sudan under President Omar al-Bashir are "simply hideous as well," and "no one has been protecting the government of Bashir more than the government of China."
Killed for Their Organs

Meanwhile, in China, torture, rape, beating to death, detention in labour camps, and brainwashing have become the reality for many Falun Gong practitioners, Mr. Kilgour said.
He and Winnipeg-based international human rights lawyer and Order of Canada recipient David Matas have conducted an extensive investigation into the persecution, prompted by allegations that the Chinese regime is killing Falun Gong prisoners of conscience for an illicit organ trade.
Their report and subsequent book, "Bloody Harvest," contain substantive evidence corroborated by other independent investigators that support the conclusion that "this grotesque commerce has been occurring on a large scale across China," Mr. Kilgour said.
He added that Falun Gong practitioners comprise two-thirds of torture victims and half of those held in labour camps across China, and that "the documented yearly arbitrary killings and disappearances of Falun Gong exceed by far the totals of any other victim group."
The U.N. Committee Against Torture (CAT) has asked the Chinese regime to immediately conduct or commission an independent investigation of the claims of torture and organ harvesting against Falun Gong practitioners. Mr. Kilgour commended CAT, noting that "it is rare for the U.N. system to call on the government of China to account for its human rights violations."
He also commended the Falun Gong community that has stayed true to its principle of "Truthfulness, Compassion, and Forbearance."
"The communist party has deployed the most vicious lies in state media to demonize Falun Gong since 1999. They have used all available means to persecute those who believe in its principles," he said. "In contrast for 11 years Falun Gong practitioners in Canada and around the world continue to use only peaceful means to raise awareness and expose the crimes of the regime, seeking to stop the persecution."

Montreal Falun Gong practitioner Wang Xiaohua addressed the rally in Chinese. A former prisoner in China, he was one of the practitioners interviewed by Mr. Matas and Mr. Kilgour when they launched their investigation in 2006.
For distributing flyers,"I was sent to a detention centre, and a labour camp, incarceration, hard labour. I was tortured for two years," Mr. Wang said.
He said that while in labour camp in Yunnan province in 2001, all the Falun Gong practitioners underwent a comprehensive physical examination, including X-ray, electrocardiograph, and blood work, even as they continued to be tortured. It wasn't until the Matas-Kilgour report came out that he realized their personal data was being collected for organ matching.
"A lot of people, when they hear about organ harvesting, they think it is so terrible, and wonder how it can be possible. But yes, it is possible. With the cruelty we experienced, it's absolutely real," Mr. Wang said.
Twelve Falun Gong practitioners with close Canadian family ties are among the numerous prisoners of conscience imprisoned in China from the many victim groups being persecuted by the communist regime.
Rising Brutality a Result of Appeasement

Mr. Wang pointed to the communist party as "the core of the evil" and said that "the efforts of Falun Gong practitioners are not just for ourselves, but for the freedom of all of the Chinese people."
Mr. Kilgour noted that the values of Falun Gong, "Truthfulness, Compassion, Forbearance," are authentically Chinese, in stark contrast to Marxism which, "as a European ideological import, is patently foreign." As such, Falun Gong grew to numbers exceeding the membership of the communist party within a short seven years—to 70 to 100 million by 1999, by the regime's own estimate.
In "Bloody Harvest," he and Mr. Matas point out that although the Roman Empire persecuted Christians cruelly, eventually it became Christian. Emperor Constantine converted to Christianity in 312 A.D., and Emperor Theodosius made Christianity the empire's official religion in 391 A.D.
The day will come when the government of China will say that communism is not acceptable to its people, and will decide to adopt the values of Falun Gong, Mr. Kilgour said. "That's what should happen in China, and it will happen in China."
FDAC president Li Xun referred to the Epoch Times publication of the "Nine Commentaries on the Communist Party," a comprehensive historical analysis of the Chinese Communist Party (CCP) that for the first time revealed the party's inherently evil nature marked by deceit, violence, and killing. Over 77 million Chinese people have renounced their CCP membership as a result, he said.
"It is not our responsibility to change the regime, as we believe the regime will disintegrate on its own due to its own actions," said Mr. Li. "However, it is our responsibility as governments and fellow human beings to take a principled stand together to end the persecution."
Along with other human rights advocates imprisoned in China, Mr. Kilgour called for the release of Gao Zhisheng, a Christian lawyer and Nobel Peace Prize nominee who has been repeatedly abducted and tortured for defending Falun Gong practitioners. His current whereabouts are unknown.
Mr. Li read out a passage from a letter written by Mr. Gao in 2009.
"I want to remind those so-called global 'good friends,' 'good partners' called by the Chinese Communist Party that the increasing degree of brutality and cruelty against the Chinese people by the party is the direct result of appeasement by both you and us (our own Chinese people)."