Falun Gong Practitioners Hold July 20 Events Across Canada
July 21, 2013 8:51 pm Last Updated: July 22, 2013 11:23 am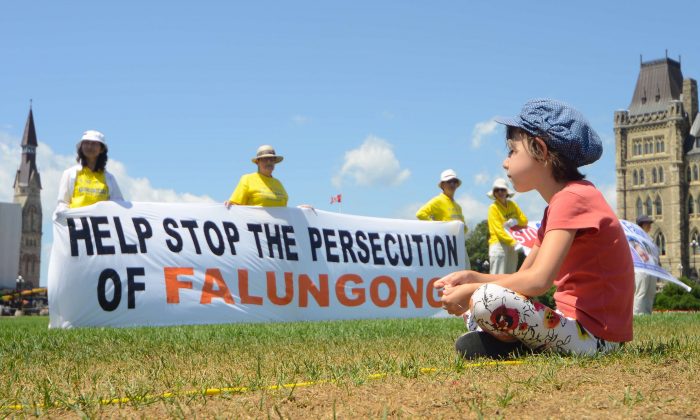 Every year, on July 20, practitioners of the Chinese meditation practice known as Falun Gong, also called Falun Dafa, arrange rallies and parades in cities across Canada.
For these practitioners, July 20 marks a tragic day in the history of China. On this day in 1999, the Chinese Communist Party set out to eradicate the Falun Gong practice while subjecting practitioners to illegal detention, torture, labour camps, brainwashing centres, and live organ harvesting.
This year, cities where events took place include Toronto, Vancouver, Calgary, Edmonton, Winnipeg, Ottawa, and Montreal.
Toronto held a parade that wound through downtown, while Falun Gong practitioners in Vancouver gathered at the Vancouver Art Gallery for musical performances and exercise demonstrations. In Ottawa they gathered on Parliament Hill, while Calgary practitioners held a vigil outside the Chinese consulate in their city.
Edmonton and Montreal practitioners both held events in popular parks, and in Winnipeg, practitioners held a candlelight vigil at The Forks, a historic site downtown.
If there's a word to describe this group of people, it would be unwavering. They have been staging peaceful protests around the world for 14 years now.
The Toronto parade started with the lively blue-and-white-clad Tian Guo Marching Band, followed by pretty ladies dressed as Asian fairies who were followed by a rainbow of banners. A mock demonstration of live organ harvesting was also on display on a pickup truck.
"Falun Dafa is Good," "Truth, Compassion, Forbearance," "Help Stop the Persecution of Falun Gong," read the banners.
The Chinese regime's ongoing efforts to eliminate Falun Gong not only have not succeeded, but instead the suppression in part helped to spread the practice around the world, as it spurred adherents to raise the public profile of the meditation and self-improvement system in the face of the persecution.
Toronto practitioner Lisa Wang, who studies at Seneca College, comes out every year to play in the marching band. Although Wang has been enjoying her life in Canada with her husband for six years now, she said her friends back in China are still locked up in prisons for practicing their faith.
"I cannot do much for them, but at least I can voice out my support," Wang said.
She started practicing in China 12 years ago and said that it changed her life.
"Before I just felt like walking flesh, no soul inside. After I practiced Falun Gong, I found my soul and know who I am," she said.
The practice has help her stem her materialistic consumerism, she said, and has brought her inner peace.
Kathy Koalicki, who runs a family business, made a trip from Oshawa for the event. Koalicki said she comes to support Falun Gong rallies every year.
"This is, for me, very important because I know that Falun Dafa is a very good practice," she said, noting that she spreads the word about the practice by handing out flyers in Oshawa.
Ever since she started practicing seven years ago, Koalicki said her relationships with family and others have improved, as well as her health.
"My mind is much clearer … I feel more energized, I feel younger," she said.
The Toronto group marched for over two hours around Toronto's downtown while spectators looked on from the sidewalks, cars, and the trolleys that wind along Toronto streets.
"I don't think people should be imprisoned and persecuted like that," said Johan Terpstra, a visitor from Thunder Bay who watched the parade on Spadina Avenue.
Terpstra said he didn't know much about Falun Gong until he saw the banners.
Nicole, a Toronto resident snap many shots of the parade, said she could understand the plight of the practitioners of Falun Gong. Having lived in communist Romania, Nicole said she could relate. "I support [these people]," she said.
When the Toronto parade and rally concluded, Falun Gong practitioners arranged themselves into a neat procession and one could see that they ranged from young children to the elderly, and while most were Chinese, there were people of various ethnic backgrounds and from different walks of life.