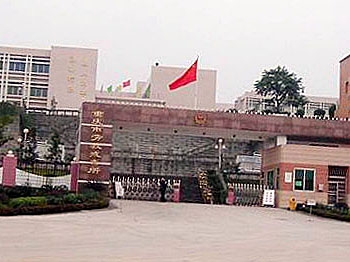 Only three days after Chinese New Year, while others were still celebrating, the family of Falun Gong practitioner Mr. Jiang Xiqing received Jiang's death notice, on January 28.
Jiang was a practitioner from Jiangjin District, Chongqing city in southwest China's Sichuan province. He was imprisoned by the regime because of his belief in Falun Gong. His family told an Epoch Times reporter that when they had visited Jiang on January 27, the old man looked okay. The next afternoon, the family was told that Jiang had died. The prison claimed that Jiang died of "myocardial infarction", and the prison said it was willing to pay "compensation, for reasons of humanity."
Jiang's family suspected the reason given by the prison and after strong urging, the prison agreed to perform an autopsy, but insisted the autopsy should be performed by the prison staff.
Currently, Jiang's family has hired lawyer to take up the matter with the prison.
Jiang was a retired official of Chongqing city taxation bureau who had practised Falun Gong for many years. After beginning the practise, Jiang had very good health, and even passed his driver's license test at age 70.
According to Jiang's family, Jiang was arrested with his wife Ms Luo Zehui, in May 2008. The regime did not give the family any proper documentation for the reason for the arrest. It took two months of constant negotiation and investigation for the family to learn that Jiang was arrested by local Jiangjin District Procuratorate, and illegally sentenced to one year in forced labour camp.
The family pressed further, and on December 2, 2008, found out that Jiang's wife had been sentenced to eight years' imprisonment. Both sentences were extralegal—there were no court proceedings and no legal paperwork was filed. The family was not informed that the sentencing was taking place, and to date the family has not received any official documents stating the verdict. The family also has not been able to meet with Jiang's wife, Luo.
According to a report on Falun Gong website Minghui.org, on May 13, 2008, just one day after the devastating earthquake struck Sichuan province, the police arrested Ms. Luo. The next day, the police siezed Jiang in his home and searched his house. The police confiscated Falun Gong books, a computer, and a printer.
After that, Jiang and his wife were detained in the local detention center with the other two Falun Gong practitioners.
On July 30, 2008, Jiang was transferred to Xishanping labour camp in Chongqing city.
According to Minghui.org data, 77 Falun Gong practitioners from Chongqing City have been persecuted to death by the communist regime.