Prerequisite to Post-Grad Law in China: Denouncing Falun Gong
April 6, 2010 10:16 am Last Updated: April 6, 2010 10:22 am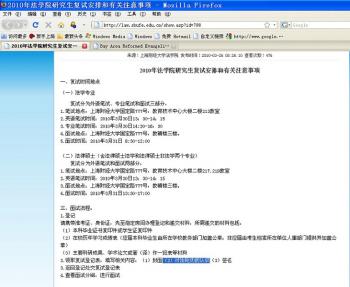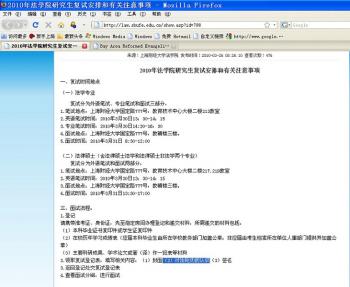 Applicants for law school graduate programs at some universities in China are required to state their "views on Falun Gong" on their enrollment applications, according to recent evidence uncovered by The Epoch Times. The ideological criterion, reminiscent of the often violent political education campaigns of the 1950s and 1960s, has been sharply criticized by some Chinese academics and lawyers.
It is now the exam season in China and many hopeful applicants are preparing for entrance exams into graduate schools. According to China Daily, around 1.4 million Chinese took part in the post graduate exams this year, an increase of 13 percent compared to 2009 and the highest recorded in post graduate enrollment since 2001.
Shanghai University of Finance and Economics placed a notice on its Web site regarding "important matters and arrangements on the 2010 law school graduate program entrance exams." One of these was that applicants have to fill in a section on their "views on Falun Gong" in the entrance examinations application form. The Epoch Times was unable to obtain a response about the official reason for this criterion; the notice was still accessible online at the time of writing.
Included in the entrance exam for Ocean University of China's political ideology post graduate studies program was the question "what is your opinion on Falun Gong?"

A number of lawyers and scholars have criticized the Chinese Communist Party's Education Ministry and its methods as against the law, an insult to the country's legal system, and a violation of citizen rights. The exams are not only wasteful of time and money, those interviewed argued, but may have far reaching consequences for the individuals forced to comply with them.
Renowned Beijing human rights lawyer Tang Jitian said: "At present, there is nothing in China's public legal documents that can support the persecution Falun Gong practitioners face, such as labor re-education, penal detention, lawsuits and trials. Everything they have done to Falun Gong adherents is illegal."
Mr. Tang thinks that adopting politicized criteria in graduate selection, especially when it involves the right to education, shows a disregard for constitutional law and an infringement on citizen rights . "In reality, this shows that certain government officials still have thoughts of class struggle from the days of the Cultural Revolution. Adopting such means to handle education matters will only lead down a path towards inhumanity."
Human rights activist Chen Xi also feels that raising such questions on the enrollment form for postgraduate law is an insult to the legal system. "I hope these forms that go against human nature and justice will never appear in exams again," he said.
Falun Gong, a spiritual practice that grew immensely popular during the 1990s, before being publicly suppressed and made the subject of an intensive propaganda campaign by the state in 1999, remains a highly sensitive issue in China. Discussion of the practice or its treatment by the authorities outside official dogma is circumscribed.
"Forcing one to declare their view of Falun Gong on a form is entirely against the candidate's right to privacy," Mr. Chen said. "The consequences are very serious because this is an insult and infringement on every candidate's conscience. Public power should not encroach on areas touching on human conscience and right to privacy," he said regarding it as another example of "how evil the Communist regime is."
The CCP's attempt to exclude those who practice Falun Gong, or are sympathetic to its persecution, extends into general university admission as well, according to interviews previously conducted by The Epoch Times. Interviewees who practice Falun Gong recount campus-wide "tests" which specifically asked students to either denounce, defend, or profess their ignorance of Falun Gong. It was reported that not ticking the box explicitly denouncing the practice led to repercussions, ranging from expulsion from university to a sentence in a labor camp for "re-education," where torture is commonly reported.
Attorney Mr. Li from Beijing, who did not want his full name used because of the political sensitivity of the topic, said that the practice of ideological filtering was to "politically remove" students with an independent opinion, and to destroy their humanity on a fundamental level.
"China's education system is a failure. Students place politics above knowledge and lack independent thinking. Under such a political climate, those with independent thinking are excluded from the education system," he said. "Through this kind of selection mechanism, the regime seeks to ensure that the party and nation are one body. This is a most malicious tactic used to kill the spirit of Chinese citizens and it is a subtle tactic.
"The regime has always wanted to permeate its political ideologies into the minds of Chinese citizens, especially students who wish to pursue further studies," he said.
The present selection method used by law schools to recruit new students, exemplified by the anti-Falun Gong ideological criterion, will prevent future law graduates from having a proper understanding of the basis for the institution of the judiciary, according to Mr. Tang, the lawyer.
Graduates of such an education will lack respect for human rights, increasing the likelihood that they will be incapable or unwilling to handle legal matters based on conscience or notions of justice, he said .