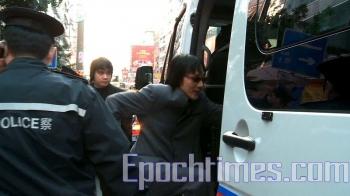 On January 13, two men attacked a human rights booth on a busy street in Kowloon, Hong Kong. The booth belonged to practitioners of Falun Gong, a spiritual practice that is banned in mainland China. The alleged attackers pulled down banners and, according to people manning the booth, the men were aggressive.
Yuan Quan was at the booth when the men approached. She said a black Mercedes Benz sedan parked on the street around 4 p.m. Soon she heard a sound behind her. As she turned around, she saw two men breaking the aluminum poles that were used to hang the banners.
Ms. Yuan said the smaller of the two wore a gray Chinese tunic suit, while the other wore a black suit. Ms. Yuan questioned the men about their actions and one replied, "I did it. What are you going to do?"
Ms. Yuan told him they were in Hong Kong, not China. She said that the smaller man told her, "I don't like what you say on the banners about heaven eliminates the Chinese Communist Party (CCP). You are not to say what I dislike. That's why I pulled them down."
The two ripped apart banners stating "Heaven Eliminates the CCP" and "There will be a new China without the CCP."
The two refused to say who they were. One of them pointed at Ms. Yuan and cursed at her.
"I asked who they were, they told me they just happened to be around. When I asked whether they were Beijing's special agents, they said nothing," said Ms Yuan.

Several police officers came to the scene and arrested the two and took them back to the police station. Later the investigators came to collect evidence at the scene.

Ms. Yuan said the booth has been at this location for many years. The literature and banners tell people about the persecution of Falun Gong practitioners in China. The citizens liked them she said, and many tourists from China were inspired by the materials they gave out.
"Many citizens agree with what we are doing, and asked us to keep it up," Ms. Yuan said.
"A woman once told me she had a teacher in China who was a practitioner, and her organs were illegally removed while she was still alive because of her practice. People told us we were the only group of people who dare to stand up against the Chinese government and tell the truth," Ms Yuan added.
Read the Chinese article