Falun Gong Believers Gather at Chinese Embassy in Ottawa to Commemorate Appeal
April 26, 2013 11:54 pm Last Updated: July 18, 2015 5:20 pm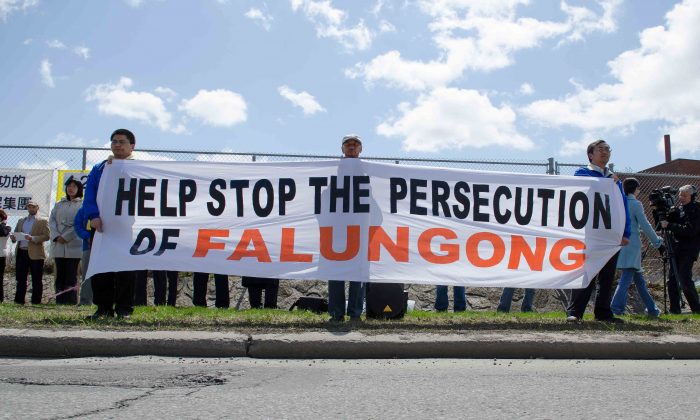 Falun Gong adherents gathered outside the Chinese Embassy Thursday to commemorate the largest act of peaceful civil obedience since students gathered in Tiananmen Square in Beijing in 1989.
It was 14 years ago, on April 25, 1999, that some 10,000 Falun Gong adherents gathered outside the national appeals office in Beijing, so many in fact that police directed them to stand on sidewalks in a line that went around Zhongnanhai, the central government compound.
The protest was reportedly shocking to then Chinese leader Jiang Zemin, who escalated suppression of the group from sporadic arrests to a full-scale campaign to eradicate the group that launched on June 10 that year.
Since then there have been over 3,600 confirmed deaths of Falun Gong adherents who have become the largest population of prisoners of conscience in China's massive labour camp system.
Due to the difficulty getting information out of China, the group says the number is likely tens of thousands higher.
Two reports, one from Canadian human rights lawyers David Matas and David Kilgour and another by American investigative journalist Ethan Gutmann, estimate that over 40,000 have been killed so their organs could be sold on the transplant market.