Eager to Express Freedom in NYC, Falun Gong Calls for Mayor's Help
May 9, 2014 6:33 pm Last Updated: May 16, 2014 3:52 pm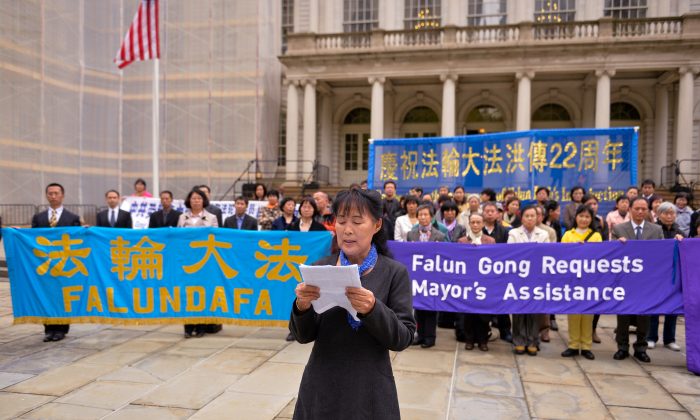 NEW YORK—A large crowd holding colorful banners stood on the City Hall steps on a dreary, drizzling Friday. In advance of the 15th annual World Falun Dafa Day, when over 10,000 people from around the world will arrive in New York City, the group is asking Mayor Bill de Blasio for assistance.
A colorful, diverse parade, including music and dance, is planned for next week, but the group has yet to receive a permit. The parade is part of a week-long series of public events at different locations, such as Union Square and Central Park.
"We want to let New Yorkers know about Falun Gong, as well as the severe persecution [in China]," said Wenyi Wang, a doctor in Manhattan. Wang helped organize the parade.
At an unrelated press conference, New York City Mayor Bill de Blasio said he did not know enough about the plan, but that "certainly we'll have people follow up with them."
"Obviously we want to give their proposal a fair hearing and we'll get them an answer," he added.
The group reached out two months ago to the New York Police Department, said Wang. As of Friday morning, the latest response has the department still deciding whether to grant the permit or not. President Barack Obama will be in the city next week, and the NYPD is worried about traffic flow, Wang said. She added the group has offered to be flexible with the parade route.
The NYPD did not respond to a request for comment by the time of publication.
The Persecution
Among those at City Hall Friday were many Chinese immigrants who said they hoped to exercise their freedom of expression in the United States, something that is not allowed in China.
"I was a teacher in China," said Zhang Peng, who attended the rally. "And because I practiced truth, compassion, and forbearance, my credentials were revoked and I was jailed for 11 years. In those 3,000-some days, I can't even remember how many times I was beaten, deprived of sleep, and so on."
Li Hongzhi, the founder of the practice, first introduced Falun Dafa in China in 1992, after which it quickly spread by word of mouth. The self-cultivation practice is consistent with classical Chinese culture, such as Daoism and Buddhism, and the Chinese people connected with it easily.
By 1998 about 100 million people in China were practicing Falun Gong, more than the headcount of the Chinese Communist Party. In the early years, the party touted Falun Gong's health benefits. Later, fearful of its tremendous popularity, under the rule of Party chief Jiang Zemin in 1999, the regime gave the order to eliminate Falun Gong, according to the Falun Dafa Information Center.
Since then, thousands of lives have been lost in what is considered one of the worst crimes against humanity, even as the practice spread to over 100 countries around the world.
To Peng, New York and its landmark Statue of Liberty represent not only the opportunity to freely express and believe, but to share Falun Gong with all New Yorkers.
"All of my heart is in this effort," Peng said. "I'm not only representing the millions in China, but Falun Dafa practitioners from around the world."
Kindness
Several rally attendees who have firsthand experience with the persecution said they see the parade as an opportunity to tell people about Falun Gong and its benefits.
"I heard about it in 1994," said Yugou Wang. "Before that I was chronically ill, nearly always in pain. I could hardly walk, let alone work."
Wang said her younger sister told her about it, and after attending two of ten lectures given by Li Hongzhi, Wang saw her sister completely change. She attended the classes herself, and it was a life changing experience for her too.
"I could taste again, I could speak again, I was walking with a spring in my step," Wang explained. "My friends, family, and co-workers noticed the change—they all said people who practiced truthfulness, compassion, and forbearance were really something different."
Yet just for telling people of the benefits, Wang was arrested in 2000.
Zhen Yun was arrested for writing a letter about Falun Gong, and the police tried to force him to renounce the practice. "People don't want to face the scale of what's happening in China, but it needs to be made known," he said.
Yun, a university student at the time of the arrest, said he was never particularly passionate about anything, but the kindness he saw in Falun Gong practitioners moved him.
"Kind people can only benefit society, not harm it," Yun said. "The practitioners being persecuted to death are people—people who laugh and cry, and experience pain and joy; they have families, parents, children."
Yun, moved to tears, recounted his own experience when he first came to New York, and the profound feeling of realizing he could speak about Falun Gong to people he met, and he could walk down the street without fearing the police.
"We couldn't do this [in China], but now we have the chance," Yun said.
CORRECTION: A previous version of the article misspelled Mr. Zhang Peng's name and misidentified his occupation. Epoch Times regrets the error.