Falun Dafa Ship Sails in Seattle
July 31, 2013 1:06 pm Last Updated: July 31, 2013 1:57 pm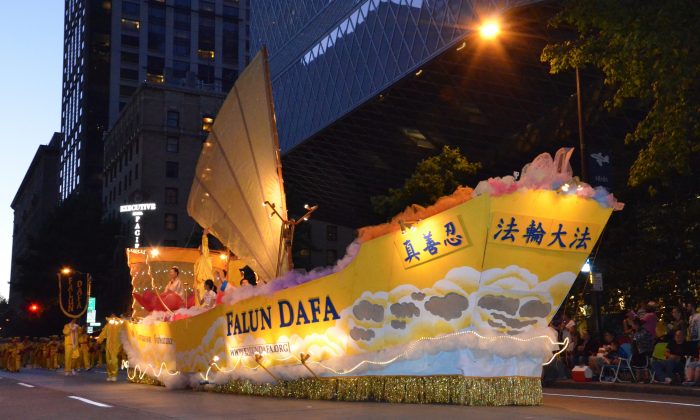 SEATTLE—A luminous heavenly vessel sailed through downtown Seattle, carrying fairies and escorted by lions. About 300,000 people gathered curbside July 27 for the 64th annual Seafair Torchlight Parade, where 106 floats of all shapes and sizes made their way through downtown Seattle on the two-and-a-half-mile parade route. 
Each float was met with enthusiasm and cheers from parade goers, but few brought as many gasps and smiles as the Falun Dafa Association of Washington's 46-foot long, 12-foot wide celestial ship.
The group's one-of-a-kind float has been invited to several major parades in both the United States and Canada, and has won 24 awards in the region—many of which were first place. 
Falun Dafa, also known as Falun Gong, is a traditional Chinese spiritual discipline. Its teachings are characterized by the virtues of truthfulness, compassion, and forbearance. It includes five gentle exercises, which practitioners demonstrated from atop the float. 
About 70 people representing several nationalities, and a wide range of ages, accompanied the float, including 42 traditional Chinese waist drummers, and one cymbalist who played two songs: "Falun Dafa Hao" (Falun Dafa is Good), and "Xi Qing" (Happy Celebration). 
A pair of animated Chinese lions walked happily with the music. A lion dance traditionally wards off evil spirits. 
Women dressed as traditional Chinese fairies sitting atop lotus flowers waved gracefully, and demonstrated the Falun Gong sitting meditation exercise, while others on the float demonstrated the standing exercises. 
Banners in English and Chinese bearing the characters for truthfulness, compassion, and forbearance led the procession, and brought up the end.
The float itself is covered with lotus flowers, colorful clouds, a 22-foot golden sail, and many lights. 
It takes an estimated six to eight hours to assemble. The parade team begins assembly early in the morning, working diligently through the day, and finishes in time for the evening parade. 
The Falun Dafa Association of Washington has been participating in Seattle's Torchlight Parade since 2005, and has received multiple awards, including the Workmanship Award, and the Seafair's Innovation Award. 
The group does not do it to entertain. They want everyone to know about the campaign of suppression and persecution in China, so that the persecution will end.
Several practitioners from China expressed their joy in being able to freely participate in the parade. 
In 1999, reacting to Falun Dafa's tremendous popularity, the officially atheist Chinese Communist Party began to persecute the practice, and practitioners today face brutal persecution for their beliefs.
Today, Faluninfo.net reports that Falun Dafa practitioners in China are the largest group of prisoners of conscience in the world, and thousands of them have been tortured and killed. 
Practitioners around the world persistently speak out for those facing suppression inside China.