Falun Dafa Day Commemorated in Santa Monica
May 10, 2014 9:38 pm Last Updated: May 11, 2014 10:42 pm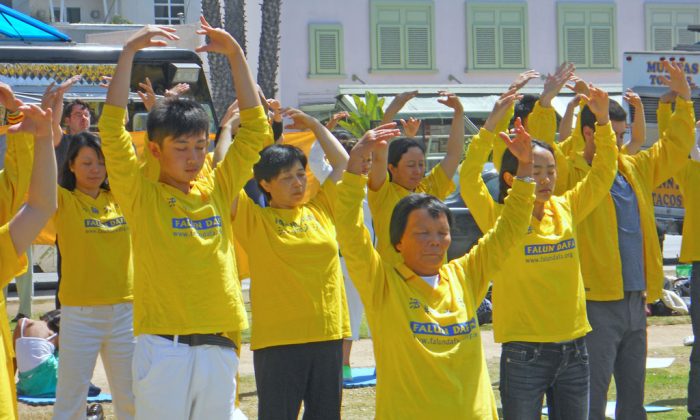 SANTA MONICA, Calif.—Over 200 practitioners of the spiritual discipline of Falun Dafa (also known as Falun Gong) took part in an event on May 4 at Santa Monica's Palisades Park to commemorate the 22nd anniversary of the practice going public. Throughout the world, thousands will be holding similar activities during the coming weeks.
The event featured musical and dance performances, demonstrations of the Falun Gong exercises by the group of practitioners, and practitioners discussing what Falun Gong is and how it is persecuted in China with passersby.
The Palisades Park overlooks Santa Monica's famous pier and beaches. With tourist season here, hundreds of onlookers going to and from those sites passed the Falun Dafa activities. Many accepted fliers about the practice and the Chinese Communist Party's persecution of the practice in China. Others stopped to watch practitioners doing their meditative exercises or performing music and dance from Chinese traditional culture.
Small groups gathered and sat on the lawn to hear practitioners tell about the persecution and why the Chinese regime is oppressing such a peaceful group.
Dr. Dana Churchill, one of the organizers of Doctors Against Forced Organ Harvesting, a nonprofit organization with a mission to stop the forced taking of organs from Falun Dafa practitioners while alive, spoke to the group. He noted that two separate studies four years ago estimated that at least 62,000 were killed during organ harvesting in the years 2000–2008 in China.
Several women felt that there was a peaceful energy during the exercises and meditation. Upon learning how the regime had come to fear how 100 million people had started practicing Falun Dafa in China, several asked, "Who would fear a group of peaceful people doing this?"
Roots of Falun Dafa
Falun Dafa, also known as Falun Gong, is an ancient practice that was first taught publicly by Mr. Li Hongzhi on May 13, 1992.
Falun Dafa practice is not a religion, but an individual practice in the traditional Eastern forms from the Buddha School. It has no paid clergy or personnel, no places of worship. People may come and go as they wish. They usually came together as groups in public parks around the world each morning to exercise. They also gather to read Zhuan Falun, Falun Dafa's main book..
The teachings of Falun Dafa encourage living a life based on the three principles of truthfulness, compassion, and tolerance.
To date, the practice is known to have spread to over 110 countries around the world.