Fallen NYPD Officer Dennis Guerra, Honored at Funeral
April 14, 2014 8:36 pm Last Updated: April 15, 2014 7:03 am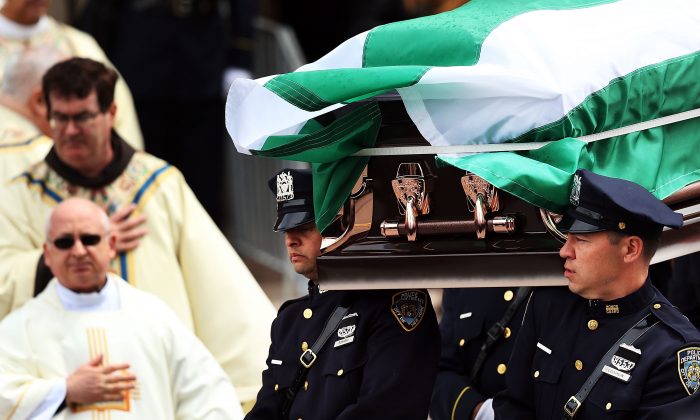 NEW YORK—The funeral for Dennis Guerra, a New York Police Department officer who died in the line of duty, was held Monday. He is the first NYPD officer to die on the job since 2011, when an officer was shot and killed after responding to a Brooklyn robbery.
"Hearts are heavy today as we lay to rest a hero, father, husband, son & part of our NYPD family," wrote Police Commissioner William Bratton on Twitter. "P.O. Guerra will never be forgotten."
The funeral, held at Saint Rose of Lima Roman Catholic Church in Rockaway Beach, Queens, was attended by hundreds of police officers in their dress blues, Mayor Bill de Blasio, and Archbishop Timothy Dolan. The mayor said a few words during the service.
De Blasio held up Guerra, who died at a Bronx hospital last Wednesday after being overcome by smoke during a building fire, as an example of valor and devotion to duty.
"My heart goes out to the family of police officer Dennis Guerra," said de Blasio during an event immediately after the funeral, which he called "incredibly moving." The funeral was private, but a wake on Sunday was open to the public.
The mayor noted that many of Guerra's family members are police officers and lauded their contributions to the city.
"There was a real feeling today of embrace for this family as they go forward," said de Blasio.
Guerra was 38 years old, and is survived by his wife Cathy, and their four children, Kathleen, 20; Jonathan, 17; Alyssa, 14; and Zachary, 7. He worked for the NYPD for more than seven years and was the son of a police detective. He was promoted posthumously to the rank of first-grade detective, which was part of a lifelong goal to follow in his father's footsteps.
His partner, 36-year-old Rosa Rodriguez, is at Cornell Hospital in Manhattan in stable condition. She is being treated for carbon monoxide poisoning and the effects of severe smoke inhalation.
"Our hearts go out, and our prayers are with the family of Officer Rosa Rodriguez, as she continues her struggle," said de Blasio.
Rodriguez and Guerra were the first to respond to 911 calls for help after a fire broke out on the 13th floor of the Coney Island Housing Development building. They took an elevator to the building's 13th floor to warn residents and evacuate them but were overcome by acrid smoke filling the hallway. They were both unconscious when firefighters found them.
Guerra was described as reveling in ridding illegal drugs and guns from the housing complexes he patrolled. His death was described as an offense against the entire city.
"The death of a police officer as a result of an intentional act not only affects an individual, it is indeed a direct assault upon society as a whole," said Bratton last week when Guerra passed away.
The fire was caused by a 16-year-old who allegedly lit a mattress in a Coney Island public housing building on April 6. Police have said that the teen, Marcell Dockery, set the fire out of boredom.
Kings County District Attorney Kenneth Thompson indicted Dockery last week for felony murder. If convicted, the teenager will face a maximum of 25 years to life in prison.
"We will bring the defendant to justice for these terrible and horrific crimes," said Dockery in a statement.