NYT Publishes Fake Mueller Firing Story 2 Hours After New Clinton Scandal Exposed
The New York Times published a fake news story on Jan. 25 claiming that President Trump tried to fire special counsel Robert Mueller and that senior White House lawyer Don McGahn tried to quit because of it. CNN followed up, claiming the White House was "in turmoil as CNN confirms Trump tried to fire Robert Mueller."
The story was quickly debunked, however. CBS reported on Jan. 27 that Trump did not give an order to fire Mueller. It claims Trump discussed the issue, and noted three areas where Mueller could have conflicts of interests in his role, but never gave any orders. CBS also reported that while McGahn did allegedly threaten to quit, it wasn't about Trump and Mueller.
Elizabeth Harrington of Fox News speculated that the New York Times published its debunked story to detract from the release of text messages from the disgraced FBI agent who conducted the interviews with Hillary Clinton in her email scandal. The New York Times piece was published just two hours after Sen. Chuck Grassley (R-Iowa) released the text messages of former FBI Deputy Assistant Director Peter Strzok and FBI lawyer Lisa Page discussing going easy on Hillary Clinton in the email scandal investigations.
Trump also responded to the claims, telling reporters according to the Associated Press, "Fake news, folks. Fake news. Typical New York Times fake stories."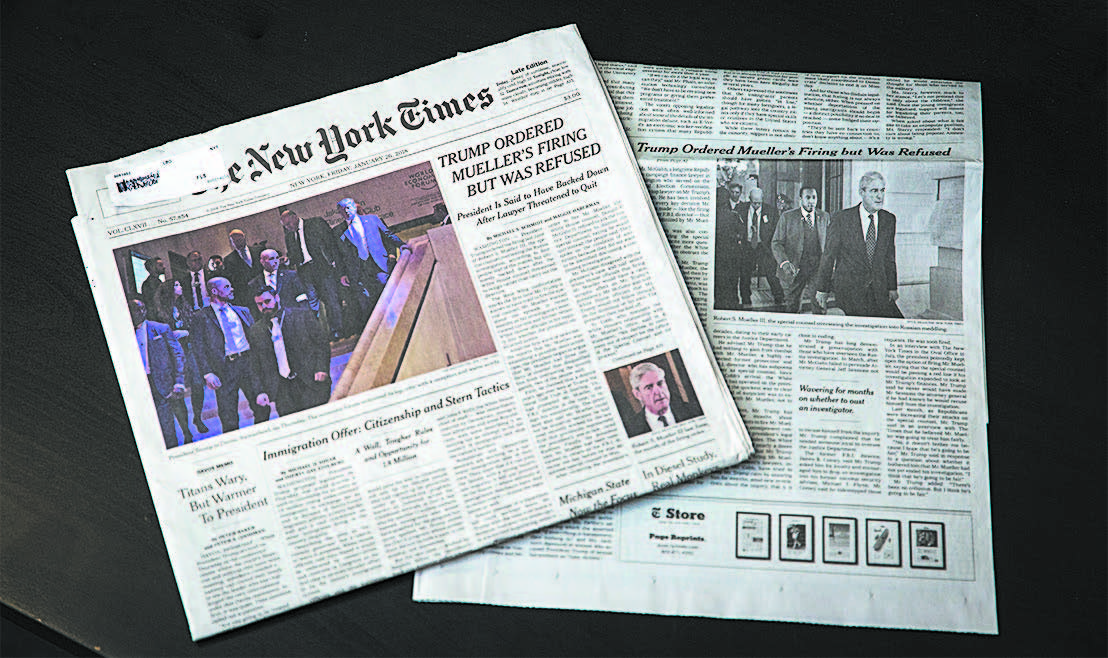 German TV Show Altered Volume of Boos During Trump Speech
German news program Tagesschau altered the volume in a video so that viewers could hear booing when President Donald Trump criticized dishonest news reporting during a Jan. 26 speech at the World Economic Forum in Davos, Switzerland.
"It wasn't until I became a politician that I realized how nasty, how mean, and how vicious the press can be," Trump stated in the video. The audio in the Tagesschau version can be heard changing, and a mix of boos and applause can be heard.
Tagesschau admitted in a tweet, translated from German, that, "We have actually made the sound a bit louder, so that you can hear the boos."
Other German news outlets pointed out the issue. Der Tagesspiegel quoted Bild Editor-in-Chief Julian Reichelt saying it would be, "Hard to imagine that you would have done the same to applause."