Fake Chinese ATM Machine Only Takes Money
June 24, 2010 3:53 am Last Updated: October 1, 2015 7:47 pm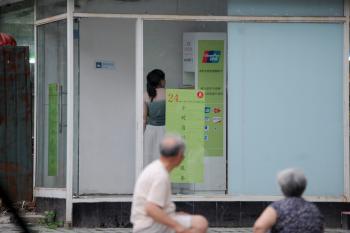 In recent years, a variety of fake products have flooded markets in China. A new addition to this assortment of fakes is a fraudulent ATM machine found near the Guanganmen Subway Station in Beijing.
According to a Beijing Morning Post report, a Mr. Luo, who lives nearby, attempted to withdraw money from this newly installed ATM on the evening of June 17. After he inserted his bank card and entered his PIN, the ATM screen displayed "temporarily out of service," and his bank card was ejected from the machine.
However, two days later, Mr. Luo realized that 2,100 yuan (US$308) was missing from his account. He reported the matter to the police.
The ATM machine had been placed in a small glass hut. There was no cash dispenser, but only a small opening on the painted surface of the silver-colored machine.
A "24-hour ATM" sign had been placed on two sides of the glass hut. The sign also has a logo which resembles that of the Hong Kong Hang Seng Bank. On the machine there are various credit card company logos, such as China Unionpay Card, Visa Card, and Master Card.
Mr. Luo called the customer service hotline for Hong Kong Hang Seng Bank and was told that there has never been a Hang Seng Bank ATM machine in that location.
He then dialed the emergency contact number on the machine, and reached Beijing Telesound Electronics Ltd., which provides ATM monitoring services for many banks in Beijing. After an on-site investigation, it was determined that the ATM machine has no connection to Beijing Telesound Electronics Ltd.
Police removed the fake ATM machine on June 20 and arrested one suspect.
Some nearby residents reported that the owner of a tobacco store next to the ATM installed a big lock on the glass hut and threatened to smash reporters' cameras. His wife claimed that she had used the ATM before, but no money was stolen from her account.
Employees from other nearby stores, relieved that action had been taken, said the ATM had been there for less than a week before it was deemed suspicious.
According to Beijing News, an ATM machine can be easily purchased by anyone. The identity and intention of the buyer is never scrutinized. Any company or individual can purchase an ATM without entering into a contract with a bank. There are about ten different types of ATM machines on the market with prices ranging from US$7,000 to US$20,000.
After hearing this news some people joked that they have to be extra careful going to a bank. Who knows whether it's real or fake!