OTTAWA—The West can learn a lot from observing how China is attempting to undermine democracy and infiltrate the society in Taiwan, because the strategy the regime is honing on the self-ruled island today, it will implement in other countries tomorrow, says Chen Tan-sun, a former Taiwanese foreign minister.
"China is trying to push out its influence on Western countries," Chen, now chair of the Taiwan-based think tank Prospect Foundation, said at a panel discussion in Ottawa on Oct. 28. Titled "Blunting China's Sharp Power: How democracies can defend against Chinese influence operations," the discussion was organized jointly by Chen's organization and the Macdonald-Laurier Institute (MLI).
For Canada, the issue of China's rise and the communist regime's hostile acts against Western democracies is all the more in focus in recent months, as Canadians Michael Kovrig and Michael Spavor remain behind bars in China after Canada's arrest of Huawei executive Meng Wanzhou and China continues to block Canadian imports.
"The Chinese Communist Party has an ongoing campaign to embed agents of influence in Canadian business, politics, media, and in academia," MLI managing director Brian Lee Crowley said in his talk. "Beijing aims to turn Canadian public policy to China's advantage, to acquire useful technology and intellectual property, and to be able to monitor and intimidate Chinese Canadians and others."
For years, Canada, like many other Western countries, has been a target of Beijing's United Front department, which aims to advance the regime's influence in other countries and control the Chinese diaspora. To achieve its mandate, the agency uses various tactics, including compromising politicians in the target country, using members of the Chinese community to hold events that support Beijing's interests, and more recently, helping people from the Chinese community who have the trust of the regime to run for office. According to Australian professor and author Clive Hamilton, this latter tactic is most advanced in Canada.
But with advances in technology, Beijing's tactics have also become more sophisticated in recent years.
Puma Shen, an assistant professor at the National Taipei University and a digital warfare researcher, has been studying the regime's attempts to sow discord and subvert democracy using information technology in other countries for some time.
He said what sets China's digital attack tactics apart from Russia's is that China uses both centralized and decentralized schemes, whereas Russia centralizes its operations.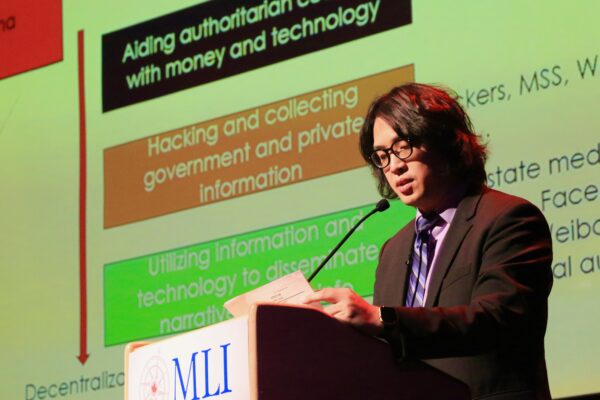 Shen groups Beijing's technological warfare attack tactics in three categories, in increasing magnitude of decentralization: helping authoritarian regimes with money and technology to surveille their citizens with the help of Beijing-linked technology companies such as Huawei; hacking and collecting information from countries targeted by Beijing; and using communication technology such as social media platforms to spread disinformation to create discord in society.
"In Taiwan, we face the last two attacks: the collecting of private information, or stealing of technology, as well as the utilization of private information to deliver problematic messages to different groups of people which can produce distrust," he said. "The command of the CCP [Chinese Communist Party] might be centralized, but the operators have their own capacity to initiate all these attacks."
Among the solutions Shen proposes to deal with China's tactics is the enacting of a foreign agents registration act, such as that implemented in the United States, which requires entities representing the interests of foreign powers to disclose their relationship with the foreign entity to the government. Australia has enacted similar legislation that came into effect this year.
Blunting the Sharp Power
Considering similar legislation to Australia's is just one of the actions that Margaret McCuaig-Johnston, a senior fellow with the University of Ottawa's Institute for Science, Society, and Policy, recommends for Canada to tackle China's hostile acts.
McCuaig-Johnston, who worked close to four decades in the government, including senior roles in different ministry departments, said Canada needs a new approach to China, one that "addresses the situation of our detainees, our agriculture bans, shows China consequences for its actions, and refocuses our engagement in Asia."
She said Canada should continue to send the message that it's a nation based on the rule of law, and maintain its efforts to seek the support of other countries to speak out against Beijing's aggressions.
"We've been instructed by China to stop, so we know it has hit a chord, and we should keep doing that," she said.
Canada should also continue its appeals to the World Trade Organization on China's violations of trade rules, ban Huawei from the 5G network, and deepen its relations with Taiwan.
"This is not business as usual," she said. "We don't want Canadian companies to be further damaged, but we should not be out there drumming up new business and new collaborations with happy signing events."