Facebook would sue the government if Elizabeth Warren became president and carried out her pledge to break up large tech companies, CEO Mark Zuckerberg said in an audio leaked to The Verge.
"At the end of the day, if someone's going to try to threaten something that existential," said Zuckerberg, "you go to the mat and you fight."
Zuckerberg's candid remarks came during a two-hour question and answer session with employees in July according to The Verge, as he addressed Warren's proposals to clip the wings of the big tech companies, such as Google, Amazon and Facebook, which swallow up fledgling competition through acquisitions and mergers.
"You have someone like Elizabeth Warren who thinks that the right answer is to break up the companies," said Zuckerberg. "If she gets elected president, then I would bet that we will have a legal challenge, and I would bet that we will win the legal challenge. And does that still suck for us? Yeah. I mean, I don't want to have a major lawsuit against our own government."
Zuckerberg said that breaking up the companies wouldn't solve the problem.

"It doesn't make election interference less likely. It makes it more likely because now the companies can't coordinate and work together."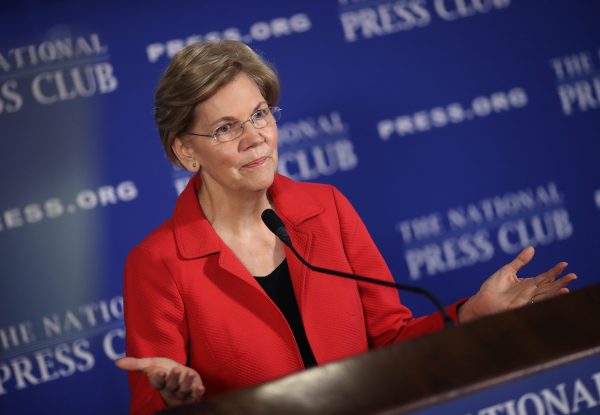 Writing on Twitter in response to the Zuckerberg's leaked comments, Warren said, "What would really 'suck' is if we don't fix a corrupt system that lets giant companies like Facebook engage in illegal anti-competitive practices, stomp on consumer privacy rights, and repeatedly fumble their responsibility to protect our democracy."
What would really "suck" is if we don't fix a corrupt system that lets giant companies like Facebook engage in illegal anticompetitive practices, stomp on consumer privacy rights, and repeatedly fumble their responsibility to protect our democracy. https://t.co/rI0v55KKAi

— Elizabeth Warren (@ewarren) October 1, 2019
Zuckerberg responded to the leaked remarks on his Facebook page, explaining that it was from a weekly Q and A with staffers.
Linking to the full transcript, he wrote, "Even though it was meant to be internal rather than public, now that it's out there, you can check it out if you're interested in seeing an unfiltered version of what I'm thinking and telling employees."
U.S. politicians of all stripes agree that the influence of big tech companies is a problem. But they do not agree on exactly what the problem is, even less the solution.
Many Republicans, including President Trump, complaining that big tech companies are censoring conservatives.
In May, Trump came to the defense of popular conservative commentators who have been censored by tech companies in a series of 13 tweets and retweets between May 3 and May 4 after Facebook banned several influential figures from its social media platforms the previous day.
Trump warned that he is monitoring "the censorship of AMERICAN CITIZENS on social media platforms."
"This is the United States of America—and we have what's known as FREEDOM OF SPEECH!" he said. "We are monitoring and watching, closely!!"
In Septemeber, Trump met with Zuckerberg in the Oval Office after he met with lawmakers, including Senator Josh Hawley, (R-Mo), who has proposed a bill that would ban various addictive social media features, and also force tech giants to prove their political neutrality through a federally mandated external audit.
The legislation would not apply to small and medium-sized tech firms.
Writing after the meeting Hawley said he had a "frank conversation" with Zuckerberg.

"Challenged him to do two things to show Facebook is serious about bias, privacy & competition. 1) Sell WhatsApp & Instagram 2) Submit to independent, third-party audit on censorship. He said no to both."
Tech companies are currently protected by 1996 Section 230 of the Communications Decency Act (CDA), which states "no provider or user of an interactive computer service shall be treated as the publisher or speaker of any information provided by another information content provider."
Hawley says this effectively gives them a free pass.
"With Section 230, tech companies get a sweetheart deal that no other industry enjoys: complete exemption from traditional publisher liability in exchange for providing a forum free of political censorship," said Hawley in a statement.
"There's a growing list of evidence that shows big tech companies making editorial decisions to censor viewpoints they disagree with. Even worse, the entire process is shrouded in secrecy because these companies refuse to make their protocols public."
But some Republican and conservative lawmakers and commentators are queasy about the creation of more power levers that rest with the federal government and belive such measures could potentially undermine free speech.
Last month, in the span of less than a week, Google and Facebook were hit with antitrust probes as big tech companies face a renewed wave of scrutiny.
Google's "dominance in the telecommunications and search engine industries" will be the subject of an investigation announced on Sept. 9 by a partnership of about 50 U.S. states and territories, led by Texas Attorney General Ken Paxton.
Days before, a probe into antitrust issues with Facebook was announced by New York Attorney General Letitia James, who confirmed that she's leading a separate, bipartisan coalition of attorney generals in eight states as part of their review.
The new state inquiries follow probes at the federal level by the Justice Department and the Federal Trade Commission, which are also investigating Facebook, Google, Apple, and Amazon for potential violations of antitrust law.
New York-based corporate attorney Manny Alicandro told The Epoch Times that the recent probes are "groundbreaking" in their nature and scope.
"This is historic scrutiny, because it's bipartisan," he said. "There's a lot at stake in terms of how much these entities—these big tech companies—control and how they disseminate information. Fundamentally, this is about control and information."
Bowen Xiao contributed to this report.