Facebook, Instagram, and WhatsApp users are voicing their outrage after outages were reported.
Facebook users appear to have trouble loading videos and images. Some also report not being able to load stories on Instagram.
Other users can't view stories, some posts, or leave comments in some cases.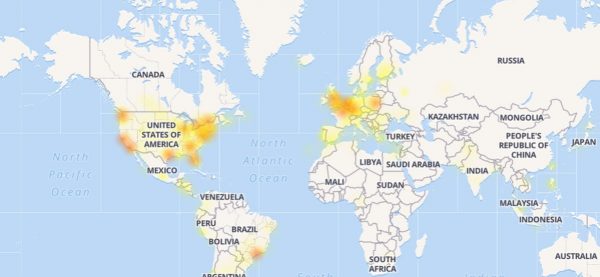 Meanwhile, some people are unable to send messages on WhatsApp.
Facebook has confirmed the outage. "We're aware that some people are having trouble uploading or sending images, videos and other files on our apps. We're sorry for the trouble and are working to get things back to normal as quickly as possible. #facebookdown," the company tweeted on July 3.
On Twitter, people are voicing outrage. #FacebookDown and #InstagramDown are the top trending hashtags on the social media site.
"Zuckerberg and his cohorts are not very smart, can't seem to fix problem in short amount of time. Guess they are struggling," wrote one person on Downdetector.com.
"Can't load anything, can't post an I live in Pennsylvania but u can't look at anything can't see any pics nothing can't even load anything on Instagram either only thing that works is WhatsApp, the whole entire day," wrote another.
Me trying to kill my last hour at work with Facebook and Instagram down pic.twitter.com/k1VxVWMwfV

— Ex Parte Partaaaay ⚖️🕺🏾💃🏽 (@theExParteParty) July 3, 2019
*Images not sending on WhatsApp*
Me: *checks Wi-Fi*
disconnects from Wi-Fi
*reconnects to Wi-Fi
*checks WhatsApp
*restarts phone
*checks WhatsApp
*checks Facebook & Instagram
*checks Wi-Fi

*finally checks Twitter

#WhatsAppDown #FacebookDown pic.twitter.com/G2h7F8v5Lm

— Anurag yadav (@Anuragy4567) July 3, 2019
Another person speculated: "July is the month that FB starts charging for pics. If you share one, the shared pic is only half price."
"Can't see any pictures. Not uploading it just stops midway!" said another.
Tried sending a picture on WhatsApp, didn't work.

Then went onto Facebook messenger, also didn't work.

Finally Instagram DM, again didn't work.

The problem when one company owns everything 🤦🏽‍♂️#whatsappdown #facebookdown #instagramdown

— Safwan AhmedMia (@SuperSaf) July 3, 2019
Facebook and insta are largely down for most of the country and let me just say thank god for twitter. I almost went out side today. I almost saw the sun. PHEW close call

— 👁CYCLOPS ARMY EP OUT NOW👁 (@Subtronics) July 3, 2019
Facebook, WhatsApp & Instagram are down so I had to talk to my family, they seem like nice people #Mark #Zuckerberg pic.twitter.com/DM6NCbbNyc

— bianca_m (@bianca_m4) July 3, 2019
Added one: "Guys it's been over 4 hours and pics not showing and loading is slow or not loading at all. frustrated? could be more than that! phones are on fire!"
Related Coverage
"Not all images are showing on Fb, Insta or WhatsApp. Just shows refresh arrow. Come on Facebook," said another.
"Must be a sign that we all need to just abandon these social networks altogether," one person opined.