Facebook announced Thursday it is looking to curb the spreading of "fake news" and hoaxes on its social media network—focusing on the "worst of the worst" offenders, while partnering with outside fact-checkers, The Associated Press reported.
"We do believe that we have an obligation to combat the spread of fake news," said John Hegeman, vice president of product management of Facebook's news feed, in an interview. But he added that Facebook also takes its role to provide people an open platform seriously, and that it is not the company's role to decide what is true or false.
"Fake news," a term repeated ad nauseam by large legacy media outlets, has been derided as a sort of propaganda—or even disinformation—by alternative and right-wing media outlets. They claim that "fake news" can be used as a tool to silence viewpoints deemed unorthodox by the mainstream.
But with the rise of Facebook came the rise of viral hoaxes—things like false celebrity death stories or fake UFO sightings—which will likely be targeted by Facebook's new team. During the election season, however, there were completely false news stories that were spread via Facebook that targeted both supporters of Hillary Clinton and supporters of Donald Trump. Since Election Day, Trump has claimed CNN has published "fake news" about him.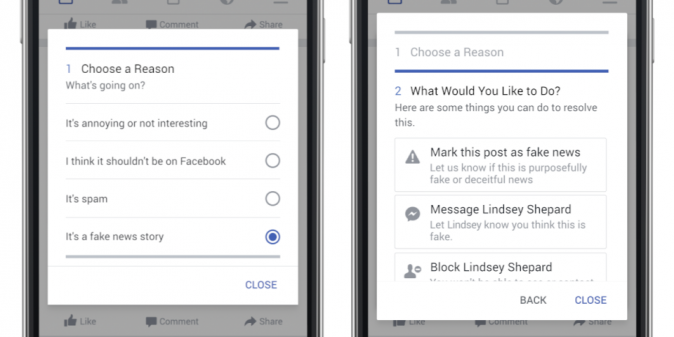 Now, Facebook is making it easier for users to report false or misleading news when they see it, which they can now do in two steps, not three. If enough people report a story as fake, Facebook will pass it to third-party fact-checking organizations that are part of the nonprofit Poynter Institute's International Fact-Checking Network, AP reported.
Stories that flunk the fact check won't be removed from Facebook. But they'll be publicly flagged as "disputed" by third-party fact-checkers, which will force them to appear lower down in people's news feed. Users can click on a link to learn why. And if people decide they want to share the story anyway, they can—but they'll get another warning that it has been disputed.
But it's unclear what will happen to articles or publishers that use clickbaity headlines.
The fact-checking organizations Facebook is currently working with are ABC News, The Associated Press, FactCheck.org, Politifact, and Snopes. Facebook says this group is likely to expand.
"We've focused our efforts on the worst of the worst, on the clear hoaxes spread by spammers for their own gain, and on engaging both our community and third party organizations," Facebook News Feed chief Adam Mosseri wrote in a blog post on Thursday.
The Associated Press contributed to this report.