Facebook, WhatsApp, and Instagram have been down for six hours, considered extremely long for the platforms. Some have speculated that it's the longest Facebook outage ever.
Last August, Facebook went down for about 45 minutes, which was described as a relatively lengthy outage for the firm.
According to Facebook's developer dashboard, it's been six hours since the social media website and app went down for millions of people.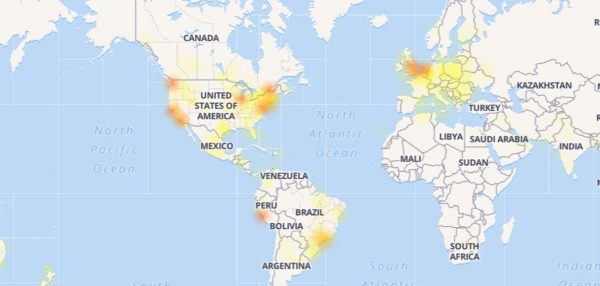 "We are currently experiencing issues that may cause some API requests to take longer or fail unexpectedly. We are investigating the issue and working on a resolution," Facebook wrote, adding that it is "investigating."
The company, in a tweet at 2:30 p.m. ET, wrote that it's trying to resolve the issue "as soon as possible," confirming that the outage "is not related to a DDoS attack."
Previously, there was speculation and rumors that Facebook was hit with a distributed denial-of-service, or DDoS, attack.
Facebook's outage is now believed to be its longest and most widespread ever!

It's been 6 hours since it's major platforms went down around the world.#FacebookDown pic.twitter.com/1vS4GSas6U

— Matt Navarra (@MattNavarra) March 13, 2019
According to AdAge, advertisers were also locked out of Facebook's ad manager.
"On Wednesday, Facebook Ads Manager, the lifeblood of advertising, was out of order, along with the rest of the platform. Ads Manager is the self-serve advertising website that millions of marketers use to schedule their campaigns across Facebook, Instagram and Messenger," according to the website.
It noted that Facebook manages some $90 million in ad revenue per day.
We're focused on working to resolve the issue as soon as possible, but can confirm that the issue is not related to a DDoS attack.

— Facebook (@facebook) March 13, 2019
The fact that its services have been partially out for hours suggests that the issue isn't something that Facebook's engineering team can easily fix.
Twitter Jokes
For most of the day, the hashtags #FacebookDown, #InstagramDown, and more were featured prominently in Twitter's trending section.
ig and fb ignoring the fact that it has been down for 5 hours #FacebookDown pic.twitter.com/1rn2HSz5jC

— created this cause instagram is down (@MU3RTOS) March 13, 2019
When you have to read because Facebook, Instagram, WhatsApp are all down. #FacebookDown #instagramdown pic.twitter.com/T2THUjI1Wx

— Rants and Big Pants (@rantsbigpants) March 13, 2019
People trying to find out what happened to Facebook and Instagram.

#FacebookDown #InstagramDown pic.twitter.com/liOD7c4I1a

— Cameron Grant (@coolghost101) March 13, 2019
Facebook headquarters for the last six hours #FacebookDown pic.twitter.com/PZbzDJxQaK

— Matt Barber (@Mbarber1997) March 13, 2019
Every social media manager across the world right now. #FacebookDown #instagramdown pic.twitter.com/sH7AUs5Myg

— Lauren Nissen (@LLaauurreenRuth) March 13, 2019