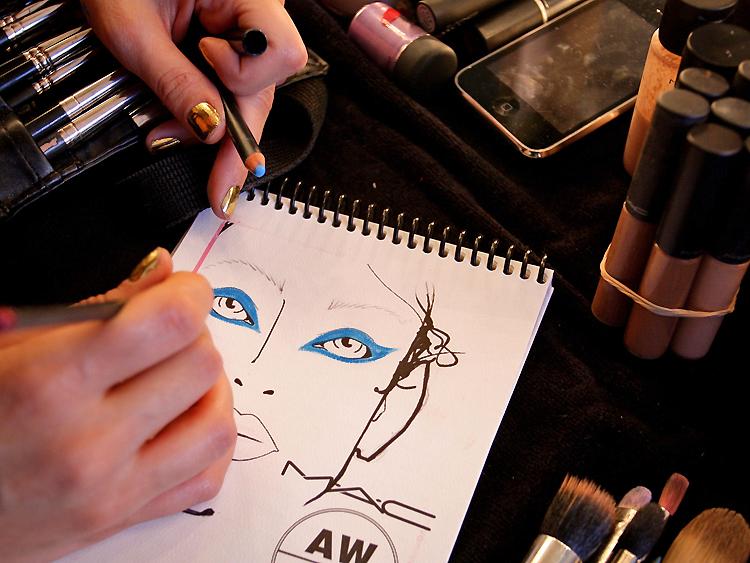 Hey, you—wearing black from head to toe—yes, you! Didn't you see the flowers blooming all down Park Ave. today? In case the deluge and rising temperatures haven't clued you in already, spring is on our doorsteps, and soon we'll all be parading around in sundresses.
So get with the season and shelve those gloomy duds! But don't forget that when you wear bright colors, your makeup has to match. Particularly for those with fair complexions, bright garments can seem to drain color from the face. With the following tips, you won't look like your wardrobe has left you behind in a different season.
Tip 1: Dress Your Face
If you are the type of girl who wears the same neutral eyeshadows and natural lip color day after day regardless of what you're wearing on your body, it may be time to reassess the way you think about your makeup. When people look at you, they don't see your face separately from the rest of you—so why wouldn't you dress your face to complement your outfit?
If you are wearing a bright color—be it coral, turquoise, or the bright pink that is so popular this season—make sure that your face has some color in it too; otherwise, your face may look washed out. If you don't believe me, hold a bright piece of fabric up to your neck, and you'll instantly see how pale you look in comparison.
To make sure your face doesn't get drowned out in the other colors you are wearing, put on your outfit before doing your makeup, and look at yourself from head to foot in a full-length mirror first. Then, choose lip and cheek colors that mimic the tones in your clothes.
For example, if you are wearing an orange blouse, pick a peach blush or coral lip—not cool violets, which will clash. This is not to say that you should match your makeup colors to your shirt, but stay within the same color family.
Tip 2: Pick a Pop
While clothing and makeup elements should complement, a balance between your eyes, lips, and cheeks should also be maintained. If you are putting a pop of color on your eyes, don't wear an equally bright lipstick. But be aware that the rule of visual blanching applies to the face as well—if you want to dust on a colorful blush, don't let your lips go bare. Go for a balanced, healthy look all around.
Also be aware that some colors are difficult to wear around the eyes, namely those with red undertones. Colors that lean red can register strangely in certain lights or even make you look as though you have an eye infection. Reds and oranges tend to do better on lips and cheeks.
Tip 3: Develop a Color Sense
It is tempting to avoid wearing color altogether if it seems complicated. That's why it may be worth your while to learn what contrasting colors are, what complementary colors are, and how to determine if a color is warm or cool—and most importantly, which color temperature better suits your skin tone.
Or, if you are stuck in neutral, just work one color into an outfit by accessorizing with a colored scarf and a matching necklace or handbag. Alternatively, you can wear neutral colors that have hints of other colors in them. There are many gray, brown, and black eyeshadows that are shot through with colored shimmer.