Shocking photos of an eye ulcer that developed in just 3 days went viral when an eye doctor shared them as a warning on sleeping with soft contact lenses in.
Despite treatment, the patient is very likely to suffer some loss of vision after developing a pseudomonas ulcer, which if not caught in time can quickly cause permanent blindness.
The pictures, which have been viewed over 30 million times, were posted to Facebook by Dr. Patrick Vollmer, from Vita Eye Clinic in Shelby, North Carolina.
Posted on April 28, the photos show the cornea of the patient's eye after it had been eaten away by the pseudomonas bacteria—the dead tissue highlighted in some images by a fluorescent green dye.
By the time she was treated, her vision had been reduced to light perception only.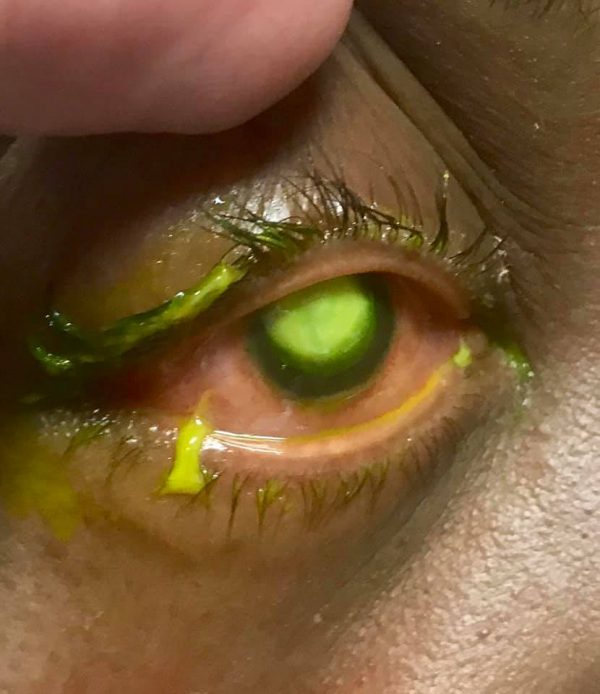 Vollmer said that he posted the pictures as a warning, fed up with hearing patients tell him, "I sleep in my contacts all the time and I've never had a problem."
"As an eye doctor, I literally hear this daily," he wrote. "The pictures below show a referred case from the local urgent care, a subsequently cultured pseudomonas ulcer, and are the direct result of sleeping in contact lenses."
"The bacteria explosively eats away at the patient's cornea in a matter of days leaving a soupy, white necrosis (dead tissue) in its wake. I was able to start this patient on fortified antibiotic drops around the clock and recently steroids to reduce permanent scarring," he continued.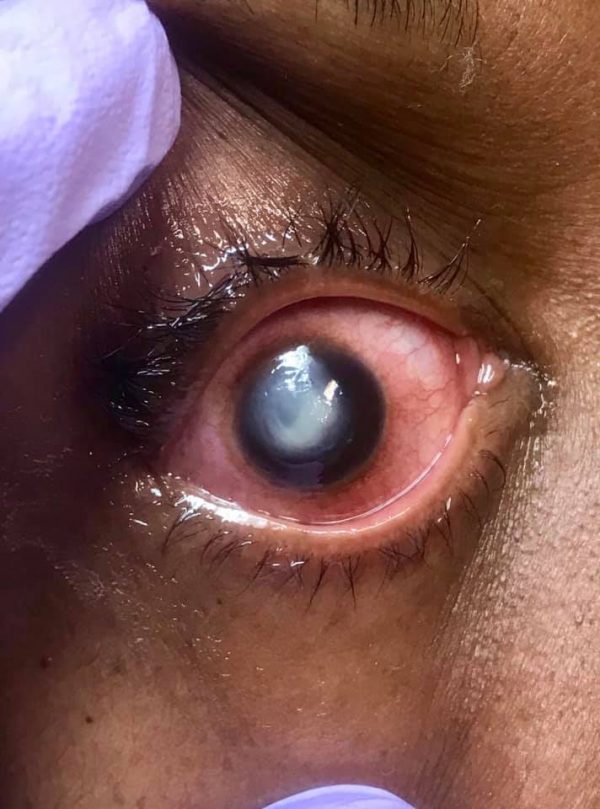 But while the patient improved drastically, she will very likely exhibit some form of residual vision loss even after treatment, he wrote.
"To be very clear, I don't ever recommend sleeping in any brand of SOFT contact lenses," Vollmer said. "It takes seconds to remove your contacts but a potential lifetime of irreversible damage if you choose to leave them in."
The ulcer took about 36 hours to form, the clinic wrote in a later comment on their post. "This patient presented to urgent care on Tuesday afternoon and was noted to have a "small ulcer." I examined her the following day (photos above) with a massive ulcer and vision that was reduced to light perception only."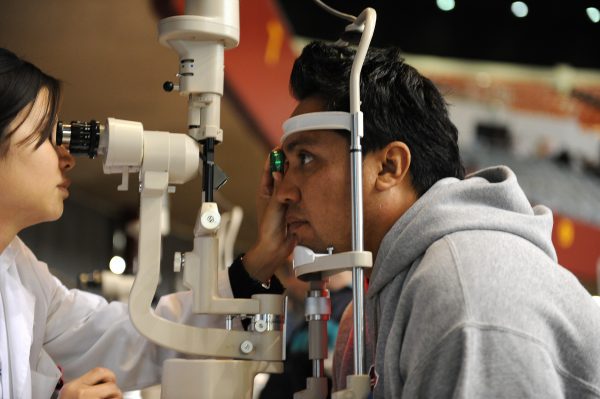 The post stirred huge interest, with some accusing the clinic of using scare tactics—an accusation which they didn't deny. "Yes, this post is a "scare tactic," they wrote in a later post, "to get you to stop sleeping in soft contacts."
The clinic later explained the green look of the eye, dubbed as "hulk eyes" by some social media users, was caused by a fluorescein dye used to identify the damaged tissue.
Vollmer said that some people who dismiss the warnings about sleeping with soft contact say, "I sleep in mine all the time and this has never happened ONCE!"
"Do you think someone would go through this twice?" he wrote.
An estimated 45 million Americans wear contact lenses, according to the CDC, with two-thirds worn by women.
On average, every year one out of 500 users are affected by serious eye infections that could potentially lead to blindness, according to the CDC.
Far more common than the pseudomonas bacteria infection highlighted by Vollmer is keratitis, a painful eye infection also linked to improper lens use.
Keratitis leads to 1 million doctor and hospital visits annually, at a cost of $175 million to the U.S. health care system, according to the CDC.