MELBOURNE, Australia—Hong Kong leader Carrie Lam's decision to formally withdraw an extradition bill has come "too late," celebrity pop-singer and pro-democracy activist Denise Ho said at a panel about the ongoing Hong Kong protests held at the Melbourne City Conference Centre on Sept. 4.
Hongkongers will continue to demand that all five original demands are met, Ho added.
The past three months has seen an unprecedented turnout of protesters—young and old—on the streets of Hong Kong to oppose a an extradition bill that would allowed the Chinese regime to transfer individuals to mainland China and face trial in the Chinese Communist Party's opaque legal system.
Hong Kong police have often clashed with protesters, leading to injuries. International rights groups such as Amnesty International and the United Nations High Commissioner on Human Rights have condemned the police for using "unnecessary and excessive use of force."
Since June, protesters have also called for the bill's formal withdrawal; an independent inquiry into police actions; the government to retract its previous characterizations of protesters as rioters; amnesty for those arrested during protests; and free democratic elections.
Hongkongers' Spirit
At the Thursday event, titled "Be Water: Hong Kong vs. China," Ho said that the mass protests since June have demonstrated Hongkongers' fighting spirit and ingenuity.
Drawing lessons from the Umbrella movement in 2014 that called for democratic elections, the extradition bill protests have become decentralized and "leaderless," Ho said. The 2014 protests were led by several activists, which "was actually slowing down a lot of decisions."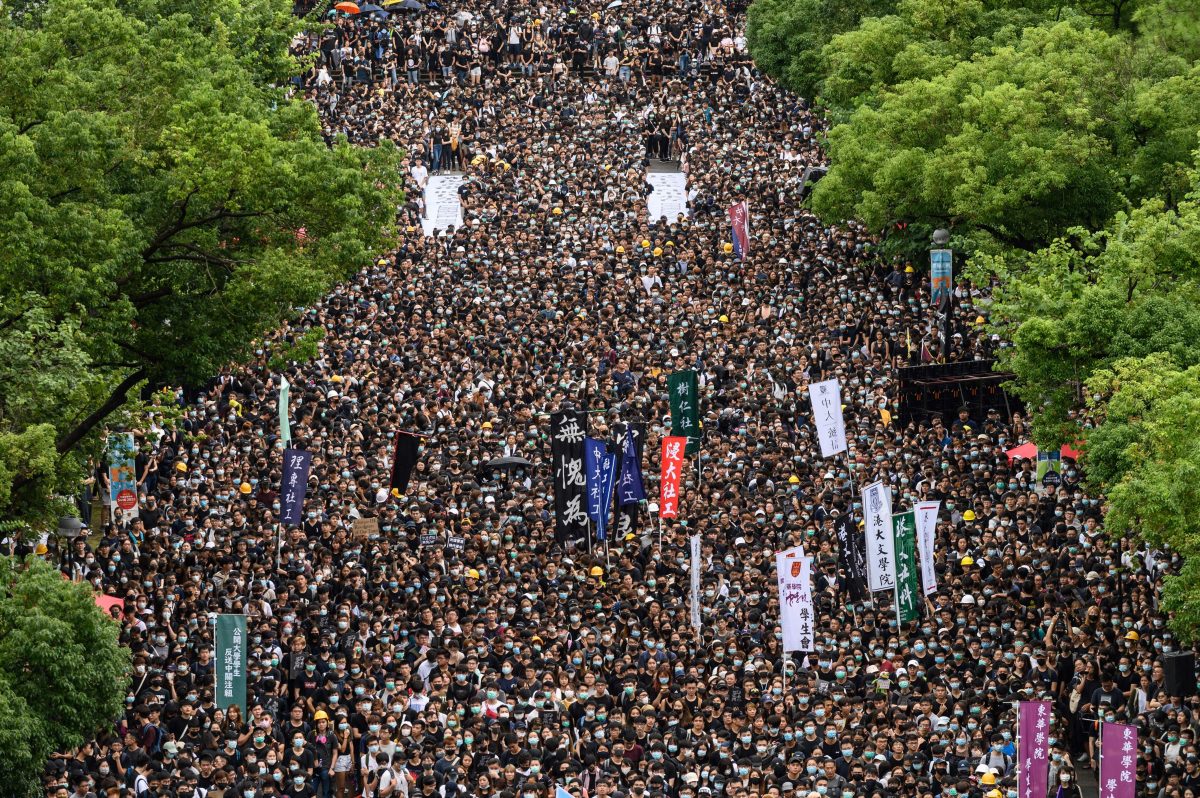 This time, she said, "we have an amazing generation of youngsters who are capable of finding solutions."
Many protesters converge on an online forum similar to Reddit where they pitch ideas and strategize. They would then upvote or downvote the ideas, and go with the decision that gets the most votes. This method would also enable groups to be formed and mobilized quickly.
"And it's very automatic, and it's very unique to the Hong Kong people who are very flexible and very motivated to make things happen."
She explained that many protesters would quickly design posters about a planned event. The artwork would be spread onto social media such as Facebook and Instagram.
She added that their creativity and courage stood in stark contrast to the Chinese regime's propaganda that portrayed protesters as violent rioters.
"We have shown that we are able to be largely peaceful, and with even 2 million people on the streets, no glass was broken, no cars were broken, anything."
Police Brutality: A Humanitarian Crisis
Louisa Lim, journalist and moderator of the event, said there has been escalating violence during clashes between police and protesters.
"Scenes that were unimaginable until they happened, and still remain unimaginable even after they happened," Lim said.
For example, one female protester was shot in the right eye with a bean bag round, likely by police, which penetrated through her goggles.
HK Riot Police fired bullet and headshot a young lady. I am not sure whether her right eye will turn blind or not but it is totally insane and terrible. US should not export tear gas and rubber bullet to HK Police anymore. pic.twitter.com/R9gZKZysaO

— Joshua Wong 黃之鋒 (@joshuawongcf) August 11, 2019
Hong Kong police have frequently fired tear gas and rubber bullets, in ways that violate international norms, such as firing them in enclosed areas or at close range. Protesters have devised ways to extinguish the tear gas by pouring water on it, or by using traffic cones.
Lim added: "A new low came this weekend—the first time we saw riot police using water cannons and blue dye to spray protesters. We saw riot police beating people on an MTR [Hong Kong's subway authority] train. Nine political leaders arrested including [activist] Joshua Wong, and elected legislators."
According to reports, on Aug. 31, Hong Kong police fired water cannons that unleashed blue-dyed water; the blue-dye is traditionally used to make it easier for police to identify protesters.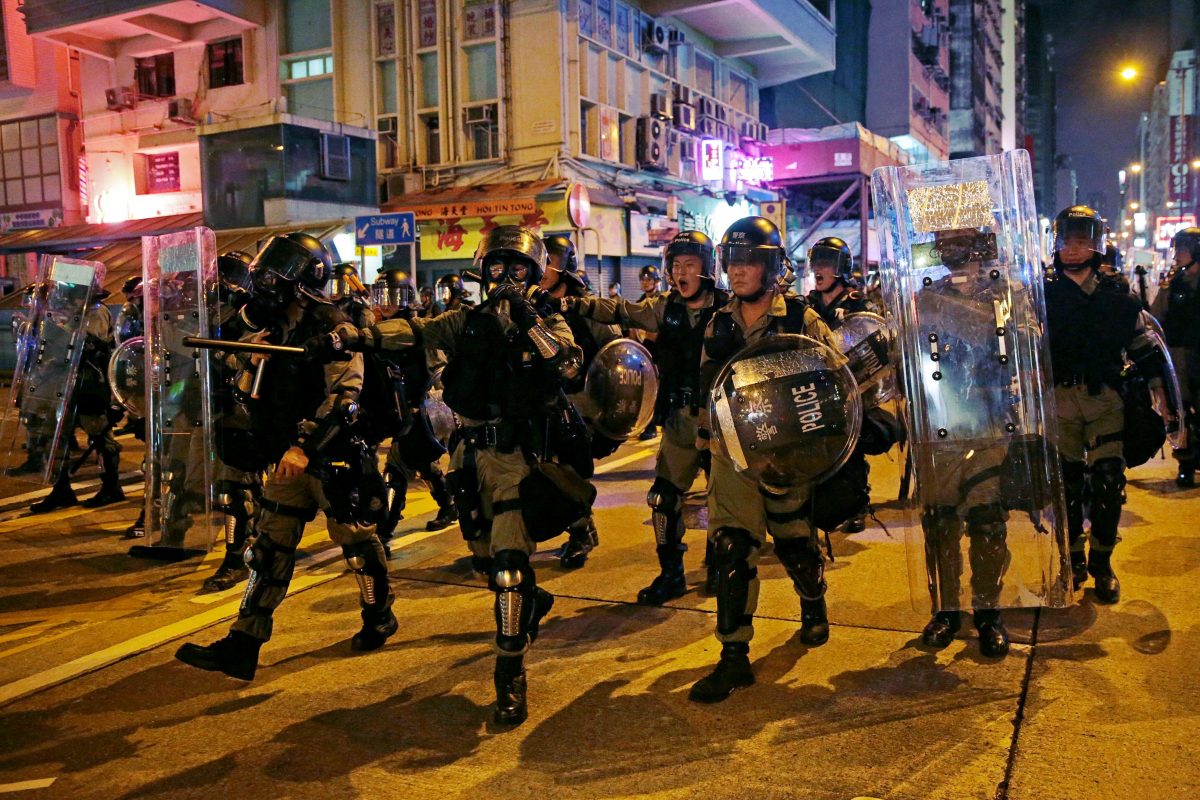 Since June, over 1,000 people have been arrested. Protesters have also been attacked by triads and pro-Beijing groups.
"So we at the moment are in face of a humanitarian crisis, where the police are doing whatever they want with the people," Ho said.
Badiucao, a Chinese political cartoonist living in Melbourne, spoke of how the events in Hong Kong have moved him deeply and inspired many of his art pieces.
"Artists should be watchdogs in this society. It tells people that 'yes, we can achieve something, not just in the image, but also in the reality,'" he said.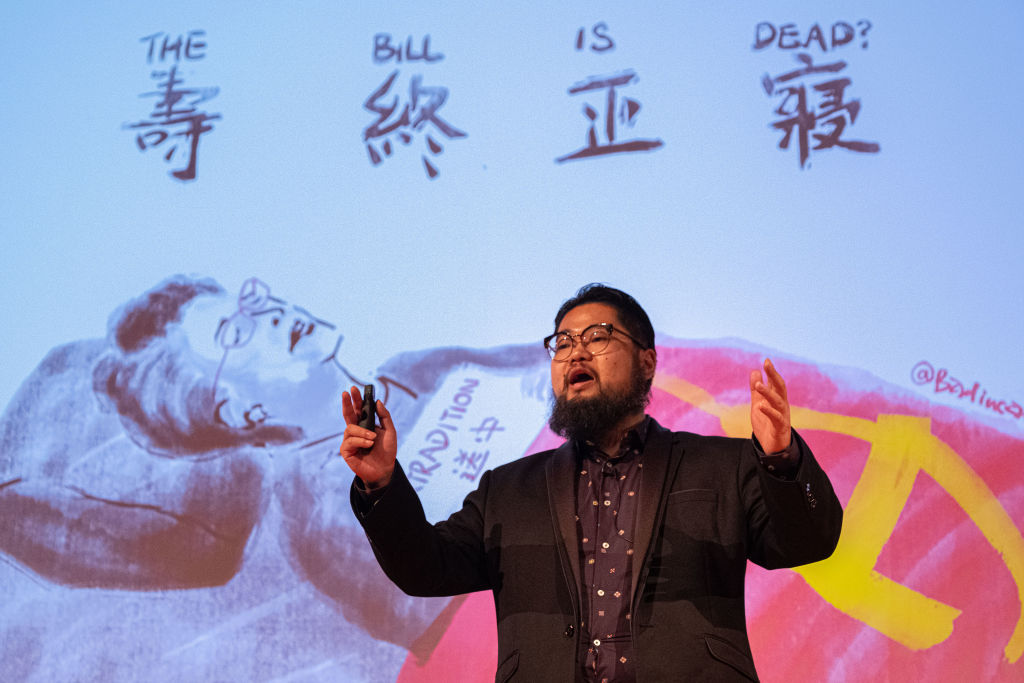 Initially anonymous, Badiucao now uses his art to challenge the censorship and dictatorship of the Chinese regime.
"I'm from mainland. And I do see Hong Kong as a beacon for democracy and freedom, not just for itself. But also for the entire China."
Badiucao addressed pro-Beijing students in the audience and said: "I want to tell you, brother and sister, I come from your position. If you open your eyes, you will change your view. And you will find, actually the Hongkongers, the people around the world, love you the most. Because if Hong Kong can trigger the freedom of China, it's a blessing for every one of us."
Clive Hamilton, Professor of Public Ethics at Charles Sturt University, added that the Hong Kong protests have played an inspirational role for people around the world who are trying to understand and respond to Beijing's influence operations, which seek to spread its agenda overseas.
Was on stage with @hoccgoomusic @badiucao and @CliveCHamilton when the extradition bill's withdrawal was announced. Too little, too late, said @hoccgoomusic. She also said HK is already a police state pic.twitter.com/g2fIXp8JFh

— Louisa Lim (@limlouisa) September 4, 2019
"The world has been here before, the world has seen the rise of tyrannies, and for people in countries like Australia, we have a choice. How do we respond to a new and powerful and increasingly brutal tyranny?
"The Hong Kong protests really are of the world historical importance," Hamilton said.
Speaking to reporters after the event, Ho commented on what would be the next steps for protesters. She said of Lam's bill withdrawal, which came three months after mass protests against the bill first began: "We do not consider this as any kind of victory. This is still a very critical situation in Hong Kong. We want the world to understand we remain in crisis."