BIRMINGHAM, England—Fifty injured and four dead, including an unarmed policeman at the gates of Parliament—all at the hands of a 52-year-old man with a violent criminal past who was born in England and later converted to Islam.
The significance of the attack in Westminster on March 22 is hotly disputed, with some pointing out that the terrorist death toll has dropped dramatically in recent decades. But others note that it is the attacks that don't happen—thwarted by security—that actually reveal the Islamist terrorist threat in the United Kingdom.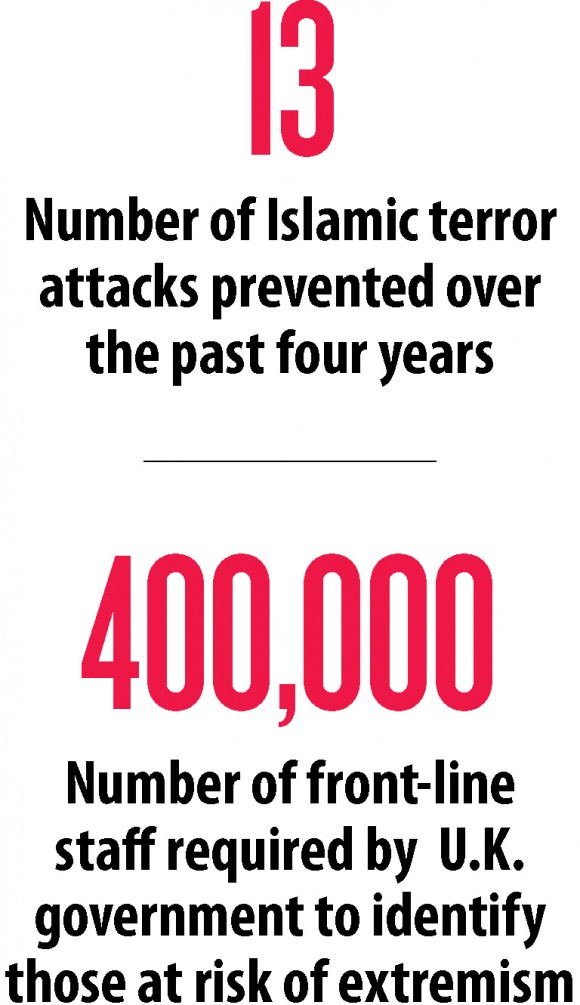 The U.K. has the most pervasive surveillance powers in the Western world and a controversial de-radicalization program that requires some 400,000 front-line staff to report those who show signs of extremism.
Will Geddes, a counterterrorism expert in the security industry, said that 13 Islamist terror attacks have been prevented in the last four years. But he believes those figures refer to major "Paris-style" incidents, not smaller attacks like the one in Westminster.
The current threat primarily comes from the ISIS terrorist group, al-Qaeda, and the Northern Irish dissident threat, Geddes said.
"The so-called 'homegrown' terrorist threat is predominantly from Islamic State [ISIS]," he said.
"There are an estimated 3,000 people of interest that the security services have indexed."
The coordinated series of suicide bombings in London on July 7, 2005, sometimes referred to as 7/7, spurred various counterextremism strategies.
The Prevent program, started in 2007, aims to counter radicalization at the roots. In 2015, regulations were tightened to legally compel teachers, doctors, and other front-line service personnel to refer those they identified as at risk of extremism to authorities.
The number of referrals has risen rapidly in recent years, reaching 4,611 for the period of July 2015–June 2016. Of those referred between 2007 and 2014, some 20 percent were identified as being at risk of radicalization.


"The Prevent strategy is viewed by some Muslims as a means of spying on Muslim communities," said Helen Fenwick, a law professor at Durham University, who specializes in counterterrorism legislation.
The advent of the Islamic terrorist threat led to a hardening of counterterrorism legislation.
A trail of controversial legislation stretches back to the Labour government of 2001, though more controversial powers—such as detention without trial—were gradually scaled back.
Some of the most far-reaching measures have never been used, said Fenwick.
"Overall, the response has been fairly cautious post-2004, and all measures are or can be tested in the courts for compliance with human rights," she said.
Currently, the most extreme restrictions, or terrorism prevention and investigation measures (TPIMs), are only being used on six people, she said.
TPIMs may force a suspect to relocate, adhere to a curfew, report to police regularly, or attend a de-radicalization program.
"The surveillance powers are seen as controversial by some, but, especially after the Westminster attacks, valuable by many, as they allow early intervention before an attack," said Fenwick.
"A large number of terrorist plots have been uncovered and those involved prosecuted, at early stages."
In November, Britain passed the Investigatory Powers Act, sometimes dubbed the "Snoopers Charter," and granted the authorities more access to communications data than any other Western government.
Staying one step ahead of terrorists is key, said Geddes. Since the 7/7 bombings, British counterterrorism units go to attack sites around the world to glean lessons for their own operations.
The U.K. tackles radicalization relatively well, said Geddes. U.K. security are the best in the world at the "battle for hearts and minds" and don't have to contend with the segregated ghettos of Paris or Brussels, he said.
The U.K. faced the threat of the Irish Republican Army (IRA) for decades, and used that experience to help the United States shape its counterterrorism strategy after 9/11.
But the Westminster attack shows the need for tougher security, said Anthony Glees, director of the Centre for Security and Intelligence Studies at Buckingham University.
"That we should have asked an unarmed policeman to confront an Islamist terrorist is disgraceful," he said.
With 1,000 British citizens leaving the country to join ISIS, a new threat has been added, he said.
MI5 should haul in and interview the 3,000 people it is surveilling and those who return from fighting, he said.
"Any indication that these people could be a national security threat should lead to them being subject to TPIMs."
Before the Westminster attack, security services had been warning it was a matter of when, not if, an attack would happen. But Geddes agrees with others who have said that the amateur, small-scale nature of the attack only shows how weak ISIS is.