An expressway under construction near the border between China and North Korea has raised some eyebrows in light of recent news of North Korea's nuclear missile tests.
The expressway, called the G1112 Ji'an-Shuangliao Expressway, which was designed to connect the two cities in the northeastern Chinese province of Jilin, has been in construction since at least 2010, according to Chinese media reports. The road is making its way from Shuangliao, at the western border of the province, to the other end, which borders North Korea.
"G1112 runs into Tonghua, long known to contain a base for PLA medium-range nuclear missiles," said Rick Fisher, senior fellow at the International Assessment and Strategy Center, a foreign policy think tank. The PLA (People's Liberation Army) is China's military force.
He further noted that all roads near the China-North Korea border could potentially be used to transport PLA ground forces into North Korea, "if the Chinese leadership so orders."
In Nov. 2015, the Hong Kong-based, Chinese-language Phoenix TV reported that the section between Meihekou and Tonghua had opened to traffic.
In Dec. 2016, state mouthpiece Xinhua announced that construction was still underway, and that an amount of 100 million yuan (roughly US$15 million) was invested in materials to help finish building the expressway.
In October, the UK tabloid Daily Express received photos that an anonymous source claimed were images of the expressway being constructed in China.
Recent tensions between North Korea and the United States have caused concern that a conflict could break out between the two countries.
With China being North Korea's closest neighbor, biggest trading partner, and major ally, the United States has pressured China to help rein in the regime's nuclear ambitions.
But the relationship is tricky, given that China and North Korea are Communist allies.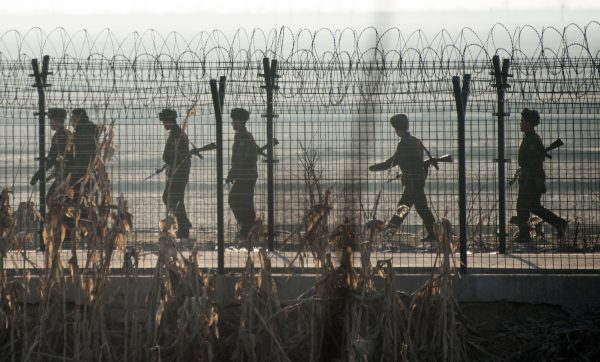 On Nov. 1, Chinese leader Xi Jinping responded to a congratulatory message that North Korea sent to celebrate Xi continuing his leadership for another five-year term, saying that he wished to "promote relations" and contribute toward "defending regional peace and stability and common prosperity," according to North Korea's state mouthpiece KCNA.
Though the exchange is routine, it comes during a contentious period in U.S.-China-North Korea relations.
Meanwhile, China recently agreed to mend ties with South Korea after tensions over a U.S. anti-missile system deployed in South Korea.
U.S. President Donald Trump will be touring Asia this week and will make stops in South Korea and China on Nov. 7 and Nov. 8 respectively.
Reuters contributed to this report.