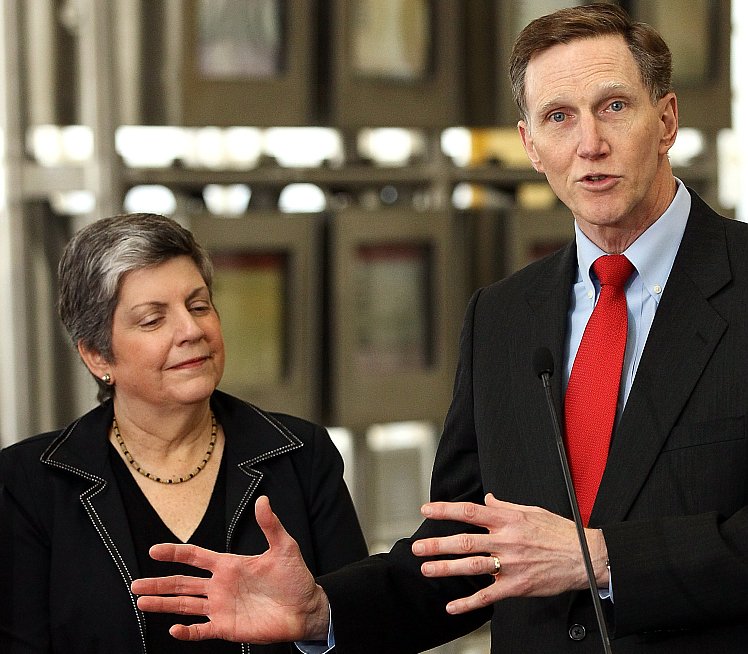 In a post-9/11 world, airport travelers in the United States cooperated with stringent security measures created by the newly formed Transportation Security administration (TSA), in an effort by all to prevent future terrorists attacks.
In the 10-plus years since, not only have travelers had to remove shoes, and reduce carry-on liquids to 3 oz. bottles, they been subjected to full body scans, pat down—and in some cases, pants down—checks, and longer lines. Add to this reports of inappropriate behavior by TSA staff, and it's enough to spur agency officials back to the drawing board for answers. Enter the TSA's new PreCheck screening program.
PreCheck draws on the agency's "intelligence-driven, risk-based approach to security" to create a program that "enhances aviation security by placing more focus on pre-screening individuals who volunteer to participate in order to expedite the travel experience," according to TSA's website. For approved participants, this means no more removing shoes and belts, tossing out liquids, and scrambling to get laptops out of their cases.
TSA administrator John Pistole says PreCheck is a move away from a necessary "one-size-fits all model" dictated by the attacks on 9/11 to a more user friendly "risk-based assessment model."
"These initiatives focus resources on those passengers who could pose the greatest risk, indeed those on terrorist watch-lists, while providing expedited screening and a better travel experience to those we consider lower risk and perhaps more trusted travelers," Pistole told the National Press Club in Washington March 5.
PreCheck has been rolled out at nine airports across the country over the last year, including Washington D.C.'s Ronald Reagan International Airport, JFK in New York, and LAX in Los Angeles. It is expected to be available at 30 U.S. airports by the end of the year.
Pistole said the response to PreCheck has been positive to date, with over 400,000 passengers signing up for the facility. But don't get too excited yet—there are some hitches to membership.
PreCheck is not available to everyone. It relies on airlines to recommend passengers for the advanced security treatment and those passengers have been largely elite, high-value frequent flyers. Advance clearance is also non-transferable between airlines, and passengers must still put luggage through x-ray machines and, like everyone else, can be randomly selected for security spot checks.
TSA Cops Flack
The TSA, which is also responsible for security across all modes of U.S. transport including highways, ports, and railway stations, has come under fire from civil libertarians for rights infringements. They point to instances like the denial of a mother entry onto a plane in Hawaii for carrying breast pumps.
A Libertarian think-tank, the Cato Institute, describes the TSA as "hassling the innocents," listing instances of over-exuberant security checks including those perpetrated by dogs who are part of the 25 Visible Intermodal Prevention and Response (VIBER) security teams that roam transport hubs to ensure security.
"The safety we enjoy owes very little to TSA's competence and a great deal to our adversary's incompetence," writes John Mueller, Cato Institute's terrorism expert.
Pistole admits that TSA does not get security checks 100 percent right, but his focus is on keeping the U.S. transport systems safe.
TSA is working to refine the process and is aiming to further unclog the airline system by adjusting standard screening procedures to accommodate children under 12 years, airline crew members, and also active members of the armed services.
He noted that from the 1.8 million passengers who travel by air in a year, hundreds of prohibited or illegal items are caught by airport security. Over 1,300 guns were caught at U.S. airports last year, he said, and 19 guns over President's Day weekend alone this year.
Indeed, the TSA blog reveals a range of horror items like mortars, flares, all kinds of knives and guns concealed in such places as binoculars, hollowed out books, shoes, and in one carry-on bag: "Stun gun, double edged dagger, box cutter, package of razor blades, shotgun shell, three loose rounds of ammo, and two M-5000 firecrackers."
While these are at least harmful, and at most deadly, it remains terrorist attacks that are the TSA's primary focus. It is a constant act of vigilance that requires starting every day with an intelligence briefing, from agencies within the United States and around the world, Pistole said.
"The bottom-line is we have to make sure everybody who gets on every plane—about 29,000 times in a day—that they have been thoroughly screened so that there is not a putative terrorist on there who is wanting to blow up that airline."
"That being said, what we are doing with this risk-based model is to recognize that the vast majority of people are not terrorists," Pistole added.
How TSA covers all those bases remains the challenge which PreCheck will go some way to address, he said.