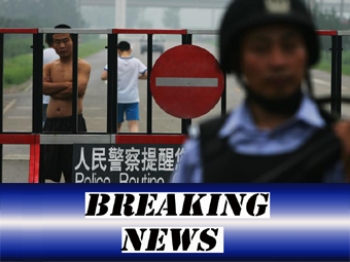 An explosion, within 50km of the Bird's Nest in Beijing, resulted in 20 people being sent to hospital on Aug. 17, the Hong Kong Information Centre for Human Rights and Democracy confirms.
The explosion involved a goods truck that was being inspected at a police checkpoint near the White Temple in Beijing at the time, the Centre said.
The Hong Kong Information Centre have since confirmed with White Temple staff and police that the incident occured, although all have refused to comment. The White Cloud Temple is a security checkpoint for vehicles entering Beijing.
Since the explosion, reports from eye witnesses who were on the bus have been removed from blog sites on the Chinese search engine Baidu.
This is the latest in series of possible attacks that Chinese officials have failed to make public.
The first fatal incident happened on August 13, reported the Hong Kong Information Centre.
According to available information, a bomb was detonated in a building at the Qinhuangdao economic and technological development zone, killing two people. While Chinese authorities refused to comment on the event, mortuary staff confirmed that the victims worked for the Changpu company.

Beijing Olympic organizers said that the explosion was caused by production activities and was not related to a terrorist act.
Other suspected terrorist incidents in Qinhuangdao have also gone unreported says the Information Centre. On July 9, Yanshan University in Qinhuangdao dismissed students for vacation ahead of schedule because of a bomb scare.
On August 4, authorities then discovered an explosive device in Qinhuangdao Stadium, the site of 12 Olympic football matches. The Information Center said that authorities were very worried because the stadium had already been checked by security and the bomb was discovered underneath a seat after that check.
Qinhuangdao is located approximately 150 km from Beijing and is considered a sensitive zone because it is a popular resort area for retired Communist Party leaders.