UPDATED: Explosion in Chinatown Injures Nine
July 11, 2013 1:29 pm Last Updated: January 20, 2014 8:44 pm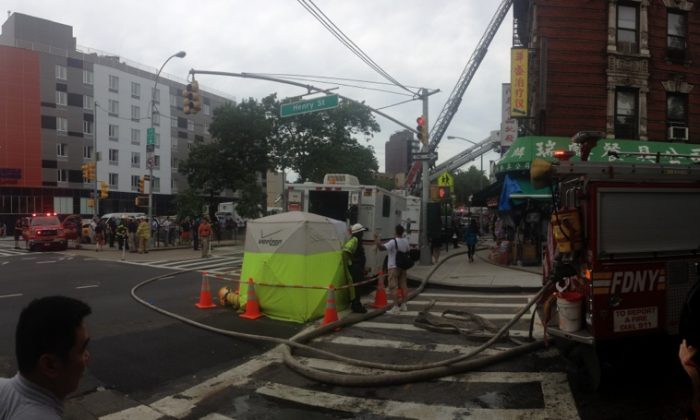 Updated 3:20 p.m.
FDNY Chief Robert Boyce said four firefighters were listed as "walking wounded" responding to the explosion at 17 Pike Street in Chinatown. They did not leave the scene.
Chief Boyce said the FDNY was looking into the cause of the explosion, but had not further information at a press conference. He said it was unclear if natural gas was the cause.
Boyce mentioned the building code had existing code violations, but did not have specifics as to what the violations were.
Fire broke out on the first floor of the five-story building, causing the mezzanine to collapse. Heavy smoke filled the upper floors. Residents are not currently allowed back in and Red Cross is on scene to help.
Council Member Margaret Chin was at nearby P.S. 2 to help comfort residents.
Updated 2:58 p.m.
FDNY reports nine victims of the explosion at 17 Pike Street have been removed from the building. The latest victims were not reported to be in serious condition.
Hector Martinez, a resident of 105 Henry Street, which shares an alley with 17 Pike Street said he smelled gas prior to the explosion.
"Something in my apartment smelled. Then there was a bang and then a shake," Martinez said. "I didn't see any fire, but a lot of smoke.
He said this was not the first he had smelled gas in his apartment, saying Con Edison had been out numerous times previously.
Officials on scene reported the explosion caused the fire, causing structural damage.
Red Cross and Con Edison is on scene and a number of elderly, mostly Chinese residents of the building are sitting on the sidewalk waiting to return to the building.
Updated 1:42 p.m:
NEW YORK—FDNY now confirms six injuries, with four in critical condition.
The critical patients are being taken to Cornell Medical Center and the non-critical are being taken to Bellevue Hospital.
Original: A building partially collapsed in Chinatown following an explosion on Thursday afternoon. Con Edison confirmed the explosion at 17 Pike Street, near East Broadway but did not say if gas had been turned off to the area.
FDNY reported four people injured, two in serious condition.
The Epoch Times will update the story as information becomes available.