Explosion in China Buries Eight Students
June 11, 2009 3:31 am Last Updated: October 1, 2015 9:44 pm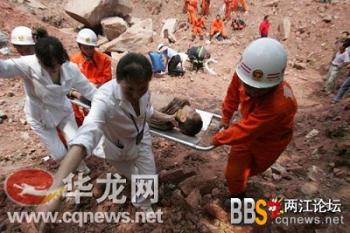 Chinese bloggers are reacting strongly to reports that an explosion at an airport construction site killed two grade six students and injured six others.
According to a Chinese news Web site, at about 1 p.m. on June 4, an explosion at Jiangbei Airport in Chongqing, the largest city in Sichuan province, buried eight elementary school students, resulting in the two deaths. All eight students were in the same class at Qixing Elementary School. One of fatalities was a 13-year-old boy, Yin Qitian; the other has yet to be identified.
Many bloggers are criticizing the relevant departments for irresponsible behavior, questioning why such an explosion was given the go-ahead while the construction site was surrounded by students. Some writers have concluded that such carelessness amounts to criminal behavior. While others have noted that a Chinese TV program, which purports to be concerned about the welfare of the people, gave only a few seconds to the news.
"I don't get it. How is it that there were explosions when students were nearby? I'm sure the media will report tomorrow that it's because the students broke the law, and the construction site had no responsibility over their actions. It's for preserving the overall interest, right?" commented one blogger.
Others questioned why the children were at the scene of the explosion in the first place. "Since it's not a school holiday, how could there be so many students? It should be investigated," read one entry.
Another Chongqing Internet user on Sina.Net offered some explanation for why the students were there. "After the construction of Jiangbei Airport, the road to school was gone. Students have to go through the construction site to get to school, or they have a far detour."
According to other commentators, the construction project has been subcontracted down to many levels and as a result, the airport's safety management is in chaos with large numbers of accidents recently.
Read the Original Chinese Article: http://epochtimes.com/gb/9/6/4/n2548180.htm