Beijing's practice of arbitrarily shifting regulatory policy is a key political risk for foreign businesses operating in China, the world's second-largest economy.
China economic analyst and Economics professor Antonio Graceffo, who spent over 20 years in Asia, told The Epoch Times that he believes that the widening power outages give foreign companies a fresh impetus for leaving China among other risk factors, including the U.S.—China trade war, intellectual property (IP) theft, human rights violations, and the pandemic.
Beijing's Policy Uncertainty
According to the 2020 American Business in China White Paper, Beijing's regulatory changes often take effect at a moment's notice, a significant risk for foreign businesses inside China.
The White Paper, published by the American Chamber of Commerce (AmCham) China, reported general pessimistic views of its members, about market growth and future investment plans in China, and identified regulatory compliance risk as the largest obstacle.
According to the AmCham Shangahi's 2021 Report (pdf), members who believed the regulatory environment was not transparent increased from 48.6 percent in 2020 to 53.3 percent in 2021. Approximately 39 percent of members would rebalance assets away from China.
U.S.-China technology-related direct investment dropped by 96 percent from 2016 to 2020 (pdf), according to a 2021 technology report by global management consulting firm Bain & Company.
The Australian Bureau of Statistics released supplementary statistics that Australian direct investment in China decreased by $1.1 billion to $-0.8 billion in 2020.
"This is a constant complaint of members of the U.S. or EU chamber of commerce in China … the lack of transparency with regard to China's state measures," Graceffo said. "China sees any attempt to change these policies as an infringement on their sovereignty."
According to "The Elements of the China Challenge" published by the Policy Planning Staff of the U.S. State Department in 2020 (pdf), Beijing regularly threatens to cut off access to China's vast markets to force foreign businesses in free countries to conform to the CCP's (Chinese Communist Party) political demands and regulations.
The Sudden Power Outage
The aftermath of Beijing-imposed power outages has brought global supply constraints that have created an inflationary spike as many critical inputs for products are made in China.
Graceffo said," The supply chains are being disrupted for many different reasons, most of which are in China and the power outages are one more contributor to an already broken system."
He explained that backlogs at factories cause downtime for ships, trains, and trucks, sitting idle for weeks for enough goods for them to transport. Mounting shipping delays and cargo backlogs decrease the quantity of inputs for goods manufactured outside of China. Supply constraints drive up manufacturing and shipping prices that are passed on to consumers as supplies take longer to produce and arrive. This creates an inflationary spike.
He said," Because of a power cut in China, certain components are not being made, which means a factory in Georgia may have a work slowdown, while waiting for parts from China."
"Ships cost about $25,000–$85,000 per day to operate and they are sometimes sitting idle for weeks now. This causes bottlenecks in ports and drives up prices. The $85,000 per day is passed on to consumers in the U.S., contributing to inflation," he added. "The U.S. inflation spike is directly correlated to supply chain issues."
Supply Chains Rebound
According to "The Elements of the China Challenge," U.S. multinational companies have relied increasingly on China's low-cost labor production and export of cheaper finished goods, especially in high-technology and advanced manufacturing sectors. This results in devastating small- and medium-sized manufacturing in the United States and other nations, leaving crucial international supply chains dependent on China.
The power cuts, which slowed production and escalated shipping costs, have caused the prices of several essential raw materials to skyrocket, according to Echemi, a global chemical industry website.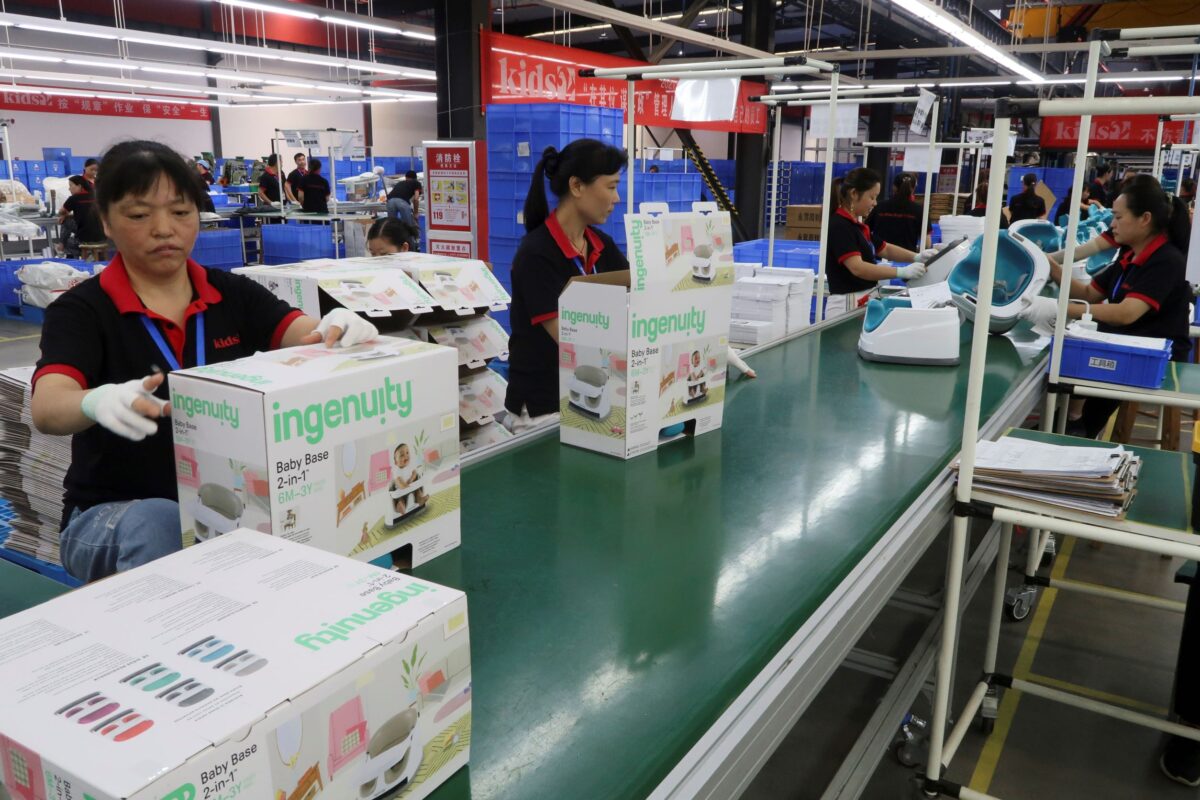 There are voices suggesting that free world countries shift the entire chain—manufacturing and supply chains—back to their home countries or to South America and Southeast Asia to overcome all the hurdles imposed by the Chinese regime.
Graceffo said," It does us no good if the factories and inputs are in the U.S., but the processing of raw materials is done in China. We have to move the whole set of operations, the entire chain, back to the U.S. and possibly Mexico and/or some close allies in Southeast Asia."
He suggested cooperating with allies such as India, Vietnam, Taiwan, and also other Southeast Asian countries, offering them the chance to pick up all of the manufacturing that is leaving China.
"This would cause an economic boom for those countries, while also moving them out of China's sphere of influence. Additionally, this strategy would move our supply chains out of China. Right now, U.S. supply chains are dependent on China, even for defense critical materials. This is unacceptable," he added.
There have been major multinational enterprises moving their production facilities out of China, such as Apple, Foxconn, Google, and so forth.
A 2020 survey by research firm Gartner showed that 33 percent of supply chain leaders had moved sourcing and manufacturing activities out of China or plan to do so by 2023.