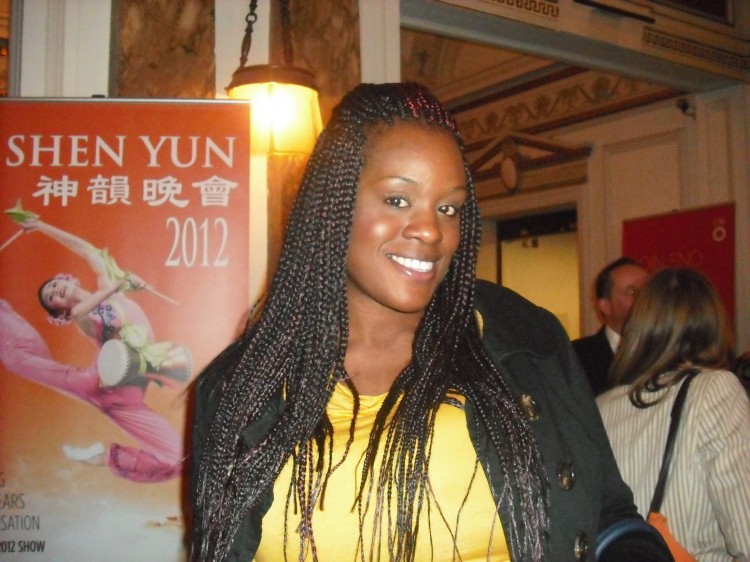 LONDON—Shen Yun Performing Arts returned to the London Coliseum for the second year running and played its opening night on April 12 to a full-house brimming with enthusiasm for the spectacular display.
New York-based Shen Yun Performing Arts brings to life the 5,000 years of traditional Chinese culture through classical Chinese dance and music, inspiring and touching audiences around the world.
One audience member who loved the International Company's performance was teacher and actress Maria Adesioye. As a performer herself she really appreciated the precision timing of the dancers and was overawed at their interaction with the digital backdrop.
One such dance that stood out for Ms. Adesioye was Snowflakes Welcoming Spring. In this dance the dancers "skilfully spin and twirl sequinned handkerchiefs. They delight and dazzle the eye in this northeastern folk dance", according to the Shen Yun programme book.
Shen Yun's digital animated backdrop adds another interactive dimension to the stage, transporting audiences across the landscapes and dynasties of China to heavenly realms.
"When [the dancers] jump into the screen, I was not expecting that, that was great, that was amazing," Ms. Adesioye said.
From the dances to the songs, the audience is taken on a journey and "the emotion draws you in", said Ms. Adesioye.
The bel canto singing had a powerful effect on her. She became so absorbed she had "goosebumps" listening to tenor Guimin Guan sing "The Return" and found the spiritual message very soothing.
"The song was really touching," she said.
Shen Yun seeks to revive the spiritual essence that is an intrinsic part of traditional Chinese culture, a culture that was "divinely inspired", according to the company's website.
However, through dances depicting how followers of the spiritual practice Falun Gong have been persecuted in China, Shen Yun brings the history of traditional culture up to the present day.
Ms. Adesioye was really touched by the piece The Choice, where a policeman encounters an old friend, who is now an outlawed Falun Gong practitioner, and has to make a choice between his duty and his conscience. "Although the pair meets with earthly tragedy, under Heaven's watch, goodness ultimately triumphs," according to the programme book.
Ms. Adesioye was in no doubt that other people should experience the beauty of Shen Yun.
"I'm definitely going to put this on my Facebook. I'm going to tell all my friends. This should be here permanently," she said.
Reporting by Chin Liang and Rosemary Byfield
Shen Yun Performing Arts, based in New York, has three touring companies that perform simultaneously around the world, with a mission to revive traditional Chinese culture. Shen Yun Performing Arts International Company will perform at The London Coliseum, April 12-15.
For more information visit ShenYunPerformingArts.org