Officials in Virginia Beach, Virginia, said that an "exotic" cat that weighs about 25 pounds is on the loose in the city.
The animal, city officials said, appears to be a cross between a house cat and a leopard. It's known as a Serval, which is native to Africa, according to the African Wildlife Foundation.
"The cat may be social with humans, however Animal Control does not suggest anyone approach or interact with it," said the city of Virginia Beach's Facebook post. "This type of cat is known to eat small rodents, such as mice and squirrels, as well as small birds," it added.
Virginia Beach Animal Control officers responded to a report of the cat on April 10 but discovered only animal tracks, officials said.
The big cat is also about 25 inches tall and "had a collar on with two boxes (possibly electric fencing or tracking)," said city officials.
In an update on April 11, the serval's owner was located, but he said the "batteries in his GPS tracking collar died about three days after he went missing."
It added that the cat's name is "Rocky."
According to the new post, "His owner and Animal Control have a plan to trap him. His last known location is the Shore Dr. area near the state park."
"IF YOU SEE HIM, PLEASE NOTIFY DISPATCH ASAP at 757-385-5000," officials warned.
But it stipulated that Rocky is domesticated and is used to being around people, children, and dogs.
TV station WVEC identified the owner as Brian Hankins, who said he is working with local authorities to find the serval. He told the outlet that the cat went missing in October.
"He is not dangerous to children or dogs or other cats," Hankins wrote on the city's Facebook page.
The serval is well-known to residents of the Outer Banks, North Carolina, and has been "spotted many times and caught on security camera footage," OBXToday.com reported.
"Traps have been set and wildlife trackers have worked to find him, but the elusive feline evaded capture," said OBXToday.com on April 10.
Hankins said that the serval can travel up to 20 miles per day and has been traveling between Virginia Beach and Kitty Hawk, WVEC reported.
While North Carolina is one of a few states that does not regulate ownership of exotic animals, Dare County Manager and Attorney Robert Outten told OBXToday.com that Rocky's owner might face a penalty.
One ordinance requires that a "vicious, fierce or dangerous animal" be restrained or confined.
"It allows impoundment and if it meets certain conditions ultimately it may be destroyed," Outten told the news website, which also reported that Rocky has killed a number of local residents' chickens. WYFF reported that he is known to eat seagulls.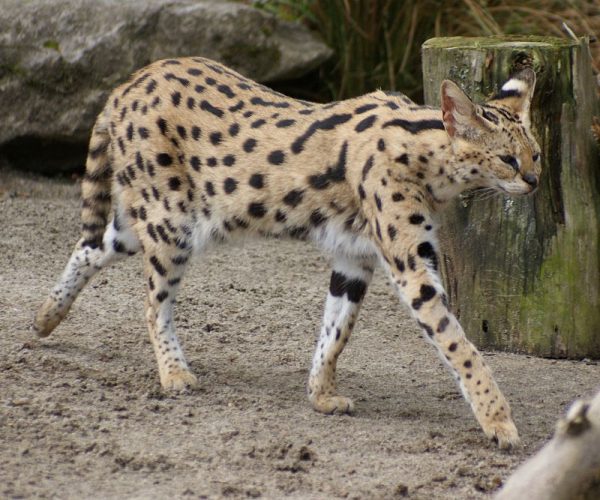 The African Wildlife Foundation says "servals are common on savannas where there is plenty of water" and "prefer areas of bush, tall grass, and dry reed beds near streams, but they are also found in high-altitude moorlands and bamboo thickets."
"They are found in most parts of Africa, with the exception of Central Equatorial Africa, the very Southern part of the continent, and the Sahara region," it says.
According to the International Society for Endangered Cats (ISEC) organization, servals are not endangered and have a stable population.
"The main predators on Servals are Leopards (Panthera pardus), dogs, and humans. Their fine markings make them a prime target for poachers, serval skins are also sold as young Leopard or Cheetah, which are much more scarce. This pelt trade appears to be domestic for traditional ceremonial or medicinal purposes," it says.
Bottom photo credit: 111 Emergency via Flickr / Creative Commons Attribution 2.0 Generic license.