Ex-Pussycat Doll Kaya Jones, who recently called the group a "prostitution ring", has revealed further details of the abuse she says she suffered while in the band.
Jones told The Daily Mail that music industry executives expected sexual favours of the Dolls.
She said in the interview: "As just one example, a record executive asked me to get into his car and I accepted. We were in Las Vegas and we were all racing to get to the airport to take us back to LA after the show."
"It was just a 10-minute ride. I remember getting in the back seat of the limo with him and within seconds he jumped on me. I literally had to fight him off all the way to the airport."
She said the same thing happened many times when she was offered rides home.
"If I accepted, the same thing would happen again. How many times does a girl hoping to make it big have to push an older man off her?"
Jones' allegations of the band acting as a  "prostitution ring" have been dismissed by the founder of the group, Robin Antin.
Antin said on the celebrity website The Blast that Jones was "clearly looking for her 15 minutes" and was never an official member of the group.
Jones left the band before they released their debut album.
No Regrets
She said the turning point came in Vegas during an encounter with an admiring little girl.
"She looked at me and said with awe: 'You're a Pussycat Doll.' She had me with those words. It was like I was Wonder Woman in her eyes."
"I stopped and thought to myself: 'What are you doing? This girl wants to be me. If she succeeds she will have to cope with sexual predators and verbal and mental abuse, she'll suffer from eating disorders, she'll consider suicide.
"I just thought I can't do it anymore," said Jones, adding that she had no regrets in turning her back on the group.
In 2004 I told hollywood executives, 2005-2006 I told press. In 2011 I spoke up again. Hope you can hear me now Media in 2017! Way to go??

— KAYA (@KayaJones) October 13, 2017
Jones is speaking up in the wake of the allegations of Harvey Weinstein's abuse. "We have to face reality that this is the norm in the entertainment industry," she told the Daily Mail.
"It is not just him."
"Everybody in the entertainment industry knows it is not just Harvey Weinstein. All those who say it is are talking BS."
Jones said she couldn't stay silent any longer. "I couldn't just shrug it off any longer or I would be complicit."
She added: "To me it's all about having a moral compass and saying 'No'."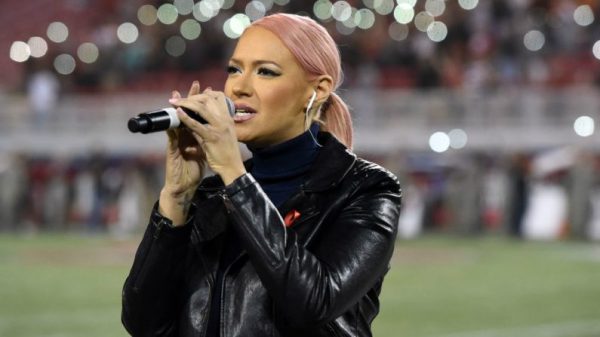 Jones was signed by Capitol Records when she was 16 and became a member of the Pussycat Dolls in 2013. She believes many victims of sexual abuse have not come forward because they have been threatened.
"Why don't we report it?" Jones previously tweeted. "Because we are all abused! I personally have been warned if I tell I will … you know end up dead or no more career".
Jones has indicated that she kept a diary of the events she witnessed during the years of abuse.
"Oh yes I kept a journal with timelines," she tweeted.
Jones was born in Toronto and lives in Los Angeles. She was at the Route 91 Harvest Music Festival in Las Vegas on Oct. 1 when a gunman carried out the deadliest mass shooting in modern U.S. history.
But she refers to her past in the music industry as a silent war zone.
"That's why I have so much respect for our military. I've been through war," Jones wrote. "But my scars you can't see. At least real war is honest."
The outpouring support Ive received is overwhelming.Thank you all who have survived abuse&sharing it.We are in a club-victors not victims

— KAYA (@KayaJones) October 18, 2017