China's claims that Xinjiang's mass internment camps—where at least one million predominantly ethnic Uyghurs are being held—are "vocational training centres" are completely "fake and made up," a former Uyghur camp detainee has told The Epoch Times.
Countering claims made by the China's ruling Communist Party, who in October described the facilities as "free vocational training centers" that make life more "colorful," the former detainee, Gulbakhar Jalilova, said "they are lying through their teeth," adding that she "never saw a single classroom."
Xinjiang governor Shohrat Zakir told state-run Xinhua news agency that people detained in the camps "will advance from learning the country's common language to learning legal knowledge and vocational skills."
But 54-year-old Gulbakhar said instead of learning vocational skills, "I moved from camp to camp, room to room, and never saw anybody spending any time learning something."
Gulbakhar, a Kazakhstan national and businesswoman, was held in an all-female camp in Xinjiang's capital, Urumqi, for just over 15 months before she was released in September this year. She was detained after being falsely accused of transferring $17,000 into a company called Nur. She was released by officials after they said they had been told she was innocent.
She was tricked into traveling to Urumqi after receiving a phone call from her business associate's daughter. She was told there were "big problems" and that she needed to come to the capital immediately from her home in Kazakhstan. She was arrested upon her arrival.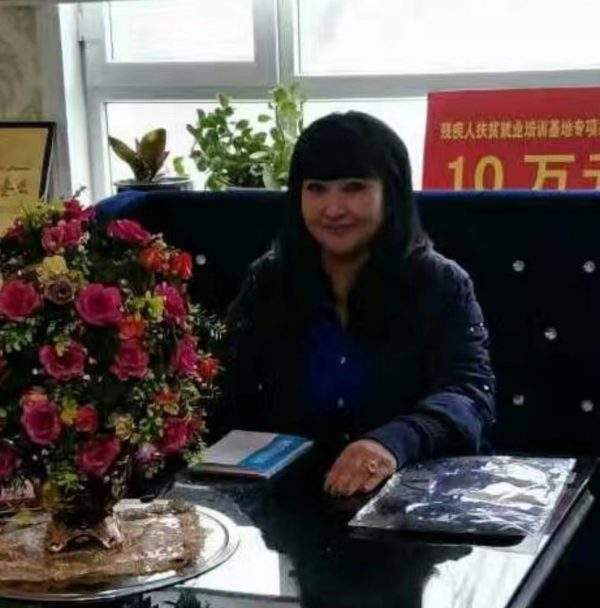 The CCP's narrative of providing detainees with "vocational skills" to help with employment does not add up, the 54-year-old said, because the types of women held in camp with her were "very rich, educated people," such as "businesswomen, doctors, nurses and teachers."
"They weren't homeless people or those with no money who needed training—that's a lie from the CCP," she told The Epoch Times.
"They could afford to go overseas and then when they came back, they were detained."
But amongst the claims Zakir made, as the CCP moved to legalize the facilities, is that detainees are offered "practical opportunities," such as learning about "businesses in garment making, mobile phone assembly, and ethnic cuisine catering."
The CCP has long justified its measures against Uyghurs, the majority of whom are Sunni Muslim, saying the facilities aim to "educate and transform" those that it deems at risk of the "three evil forces" of "extremism, separatism, and terrorism."
Uyghurs, alongside other ethnic minorities like the Tibetans, as well as faithful believers who remain outside state control, including house Christians and Falun Gong, have long been targeted by the CCP for transformation through "re-education."
Chinese state broadcaster CCTV aired a 15-minute segment in October, offering a glimpse into life inside one of the centers—the Hotan City Vocational Skills Education and Training Center.
The "trainees" can be seen reading from large textbooks in the clip and are shown learning various skills such as baking, woodworking, sewing, and cosmetology.
"Whatever the CCP shows on TV and videos—it's all fake and made up. There are no classrooms. We just sit in our rooms and stare at the wall. The door only opens to punish you, that's it," Gulbakhar added.
While China's state TV footage showed rooms with air conditioning, decorated with bunting and balloons, Gulbakhar said it is a depiction far from reality. Detainees are confined to their rooms, poorly treated, and kept in shackles in overcrowded conditions, she said.
Those in her camp were forced to ingest unknown medicine daily and were injected with a substance every month which "numbs your emotions." They were also subject to various forms of torture including food and sleep deprivation, physical punishments, while some were even killed, she said.
Chairing a Congressional-Executive Commission on China (CECC) hearing on Nov. 29, U.S. Senator Marco Rubio said given the daily realities in communist China, where "Uyghur Muslims are rounded up and interned in camps, Tibetan monks and nuns are forced to undergo political re-education sessions, Falun Gong practitioners are reportedly sent to legal education centers for indoctrination, and Christian believers are harassed and imprisoned," many observers are describing the current wave of repression in China as "the most severe since the cultural revolution."
Rubio added he believes the CCP's motivation behind the escalating crackdown "is an obsessive desire … to create a sort of unified, national identity, which must be stripped of anything that competes with it—ethnicity, religion, ethnic cultural tradition."
China analyst Dr. Samantha Hoffman from the Australian Strategic Policy Institute added at the hearing that the ongoing repression in China is about "protecting the Chinese Communist Party."
The CCP's "concept of what we would call national security I think is better translated as party state security," she said. "[T]here are dimensions … dealing with the internal struggle for power … and then dealing with everything outside the party; controlling the narrative, controlling the ideological space.
"That means that the state security methods extend far beyond China's borders and that's why you see the harassment of overseas Chinese."
Correction: A previous version of this article misspelt the Ms. Jalilovasize's first name as Gulbukhar. The correct spelling is Gulbakhar Jalilova. The Epoch Times regrets the mistake.