Former U.S. Navy SEAL Robert O'Neill, who killed Osama bin Laden in a team action during the raid, says its "disheartening" to see some Democrats defend socialism.
On a Nov. 9 tweet, O'Neill said: "It's actually disheartening to fight for this country; watch friends bleed and die… see what socialists are doing and then listen to these [expletive] democrats defend this."
The tweet got more than 15,000 likes and almost 5,000 retweets within 16 hours of being posted.
"My brother, a Marine, said the same thing," an Arizona woman who identified herself as "40-something army mom" echoed O'Neill.
It's unclear who O'Neill was specifically referring to in his tweet, but he said it along with a string of other tweets discussing the vote count in Florida's Senate race.
"It's so weird that the longer they count votes, the more Democrats get," he said, "[Scott] was ahead by 55,000 votes on Tuesday. It's almost tied now."
"They are still adding up the votes from dead people," he posted right before the "disheartening" tweet.
During a campaign event, Florida Governor and the Republican Senate Candidate Rick Scott called Bill Nelson, his Democratic rival and three-term incumbent Senator, and Florida's Democratic gubernatorial candidate Andrew Gillum, "socialists."
"They want big government and socialism," Scott told Florida Today. "They're both into higher taxes. Gillum said he's going to raise corporate taxes 40 percent. Nelson said that, if the Democrats get control, he's going to go back and raise the taxes. They don't believe that the tax cuts that we did this year are good for our state. If you look at their programs, they just want government to run everything."
Nelson's aide Dan McLaughlin has denied the allegation. "The guy just makes stuff up," he said.
Three Statewide Races Heading for Possible Recount
On the election night, Scott led by about 56,000 votes against Nelson and declared victory.
However, Broward County and Palm Beach County—two heavily Democratic counties with a history of election integrity problems—later found 80,000 additional ballots.
Scott's margin over Nelson narrowed greatly when emerging ballots from Broward County were counted. He led by just over 12,000 votes on the morning of Nov. 10, less than the 0.25-percent threshold to order a manual recount of overvotes and undervotes.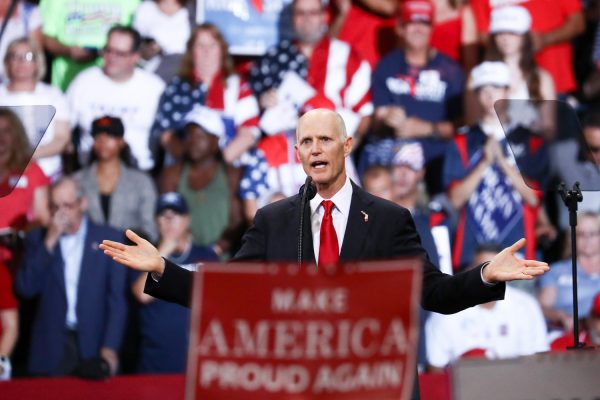 Scott filed a lawsuit on Nov. 8 against Broward County Elections Supervisor Brenda Snipes for hiding information about the number of ballots left to be counted.
He was suspicious of how Broward County came up with tens of thousands of votes so late after the election night. Broward has voted more than 2-to-1 against him, and the additional votes have eroded his lead.
"Their goal is to keep mysteriously finding more votes until the election turns out the way they want," he said in a Nov. 9 early morning statement to media. "And when that fails, they will file a bunch of lawsuits in order to try to overturn the will of the voters."
Carol-Lisa Phillips, the Broward County Circuit Judge, ruled in favor of Scott and ordered the immediate release of voter information from Snipes.
The Florida Governor's race may also be heading to possible recounts.
Tallahassee Mayor Andrew Gillum, the Democratic gubernatorial candidate, conceded to his Republican rival Ron DeSantis on election night, but when the results began to narrow, he moved for a recount. DeSantis has said little about the possible recount and is proceeding for the transition. He is appointing a transition team and preparing to take office in January.
Mayor Gillum conceded on Election Day and now Broward County has put him "back into play." Bill Nelson conceded Election – now he's back in play!? This is an embarrassment to our Country and to Democracy!

— Donald J. Trump (@realDonaldTrump) November 9, 2018
A third statewide race for agriculture commissioner, between Democrat Nikki Fried and Republican Matt Caldwell, is the tightest. The results may also be double-checked through a recount, as Fried holds a 3,120-vote lead, a margin of 0.039 percent.
Petr Svab from the Epoch Times contributed to this report.
The Associated Press contributed to this report.
From NTD News