OKLAHOMA CITY—A federal jury on April 2 convicted a former Oklahoma gubernatorial candidate and zookeeper in an attempted murder-for-hire plot.
Jurors returned the guilty verdict following six days of testimony in the trial of Joseph Allen Maldonado-Passage, 56, who was accused of trying to arrange the killing of Florida animal sanctuary founder Carole Baskin, who criticized his treatment of animals. Baskin wasn't harmed.
Joe Schreibvogel-Maldonado-Passage Convicted On All Counts!

I am grateful that justice was served and Joe Schreibvogel-Maldonado-Passage hopefully will serve time in prison and no longer present a threat either to me or to his former big cats. While media attention regarding this trial has primarily focused on the murder for hire charges, there is a much larger significance to the wildlife charges. For years, a network of big cat owners like Passage who have engaged in cruel cub petting schemes and the exhibition of big cats have also been engaging in the illegal sale of tigers and other animals back and forth among themselves simply by checking the box on the USDA transfer form that says "donated" instead of "sale" and quietly paying cash for the animals. During the trial, several big cat owners were specifically mentioned as people Passage had sold tigers to. We believe this illegal practice is common among cub breeders and exhibitors; Bhagavan Antle, Tim Stark, Bill Meadows, Mario Tabraue, Kathy Stearns, Robert Engesser, Jeff Lowe and Omar Villareal are some of the most notorious. I hope that the detailed evidence of these illegal transfers developed for this trial will lead to more prosecutions to protect captive big cats in this country from this illegal trade.~ Carole Baskin, Founder and CEO of Big Cat Rescue

Posted by Big Cat TV on Tuesday, April 2, 2019
Maldonado-Passage, known as "Joe Exotic," was also found guilty in the deaths of five tigers, and selling and offering to sell tiger cubs in violation of the Endangered Species Act.
U.S. District Judge Scott Palk did not set a sentencing date for Maldonado-Passage, who could face more than 20 years in prison.
Maldonado-Passage testified in his own defense on April 1 that although disagreements with Baskin spilled over into his social media posts, he never truly wanted her dead.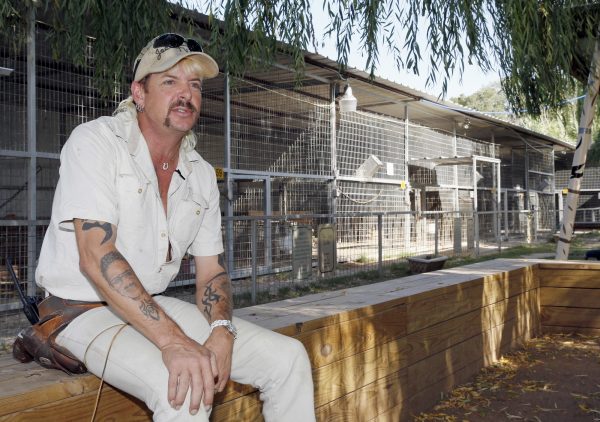 The Oklahoman reports that jurors saw in social media videos Maldonado-Passage shooting a blow-up "Carole Baskin" doll in the head.
"You want to know why Carole Baskin better never, ever, ever see me face-to-face ever, ever, ever again," he said in the video, just before firing a revolver.
Maldonado-Passage also pretended to dig a grave for Baskin and threatening to mail her rattlesnakes.
"He's been threatening me for many, many years," Baskin told The Oklahoman.
Carole Baskin; Founder & CEO, Big Cat Rescue – NativeAdVice – The Native Society – Share Your Native Voice & Inspirational Story http://thenativesociety.com/tnspeak/carole-baskin-founder-ceo-big-cat-rescue.html

Posted by Big Cat Rescue on Tuesday, April 24, 2018
Brittany Peet, an attorney for the animal rights organization PETA, was the first defense witness for Maldonado-Passage.
Peet said Maldonado-Passage told her he wanted out of the industry and to become a bartender in Central America as the defense sought to show he was never serious about arranging the death of Baskin in the videos.
Prosecutors alleged Maldonado-Passage tried to hire two separate people to kill the woman. One of the unidentified people he sought to hire connected him with an undercover FBI agent, who met with Maldonado-Passage in December 2017.
Only on 5… the prisoner transport van carrying Joe Exotic, now convicted of 19 federal crimes, leaves the courthouse pic.twitter.com/OEsiAUc6rl

— Dillon Richards (@KOCODillon) April 2, 2019
Prosecutors said Maldonado-Passage offered $10,000 to the undercover FBI agent to kill Baskin during a December 2017 meeting that was recorded and played for the jury.
In the recording he told the agent, "Just like follow her into a mall parking lot and just cap her and drive off."
Known for his blond mullet and expletive-laden rants on YouTube, Maldonado-Passage finished third in a three-way Libertarian primary in 2018.
'Joe Exotic' found guilty on murder-for-hire, wildlife charges https://t.co/Lbrtrooplw pic.twitter.com/KuqjXCwc1q

— KOCO-5 Oklahoma City (@koconews) April 3, 2019
In October 2017, Garvin County authorities investigated after Maldonado-Passage's then-husband, 23-year-old Travis Maldonado, shot himself in the head in the zoo gift shop.
Garvin County Sheriff Larry Rhodes said at the time that witnesses reported Travis Maldonado put a loaded firearm to his head and pulled the trigger to prove the weapon would not fire with the magazine removed.
Maldonado married another man, Dillon Jacob Passage, in December, court records show.
Maldonado-Passage also appeared on John Oliver's "Last Week Tonight" when he was a 2016 write-in candidate for president.