Felix Jimenez, who worked as a DEA agent for more than 30 years, said the Piketon, Ohio, killings on April 22 are a message from Mexican drug cartels.
"That style of murders we are seeing only in Mexico between the cartels," Jimenez said during a video interview with Univision.
The former DEA agent said that since the legalization of marijuana in various states, demand has risen on par with the black market. He believes the family was competing with cartels.
The execution-style shootings left seven adults and a 16-year-old dead, all of the Rhoden family; Christopher Jr. and Christopher Sr., Hannah-Gilley, Clarence, Dana, Gary, Hanna, and Kenneth.
In one of the four homes where victims were shot, three children—3-years-old, 6-months-old, and 4-days-old—were found unharmed.
"It's absolutely shocking some of the scenes. It's not one you can simply go in, process, collect the evidence, and call it a day," Piketon Sheriff Charlie Reader said during a press conference on April 27.

Police are investigating whether drugs were tied to the murders. Marijuana growing operations, too large for personal use, were found near several of the four houses where the Rhoden family was killed; as well as single-caged roosters, consistent with cockfighting.
"This isn't a plant in the window or six or seven plants out in the backyard in a garden or something. They were doing this to sell," Ohio Attorney General Mike DeWine said during an interview with WLW Radio.

An autopsy suggested one of the victims had been tortured. A 911 dispatch call made by the person who discovered the bodies said her brother had been brutally beaten.
"These types of murders, when people are tortured, is because they are looking for something," said Jimenez, who believes failed monetary payments may have been a been a motive.
"This is a message that I understand the cartels are sending for those individuals that are involved in marijuana drug trafficking in the United States," he added.
"The message is they are in control, they are going to have the complete market, and if you try to invade their territory these will be the consequences you will receive, and you will pay with death," he said.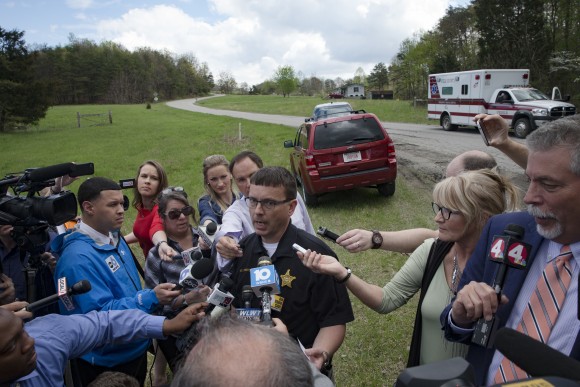 No arrests have been made in relation to the Piketon massacre. Officials say they are not assuming the killings were carried out by a lone gunman.
On April 24, Ohio's Attorney General Mike DeWine said his office had received more than 100 tips, they had conducted more than 50 interviews, and 18 pieces evidence had been sent to the crime lab for testing.
Meanwhile, A law enforcement source told 10TV that investigators are looking at various motives for the killings, among them is whether there is a Mexican drug cartel connection, and a possible drug turf war.
This isn't the first drug-related incident in the area, in 2012 officials seized more than 1,200 marijuana plants as part of a major drug raid in Waverly, a town near Piketon. The bust was carried out by the Bureau of Criminal Investigation and the Pike County Sheriff's Office.
Authorities said the marijuana plants were growing as part of a planned operation with suspected links to a Mexican drug cartel, according to 10TV.