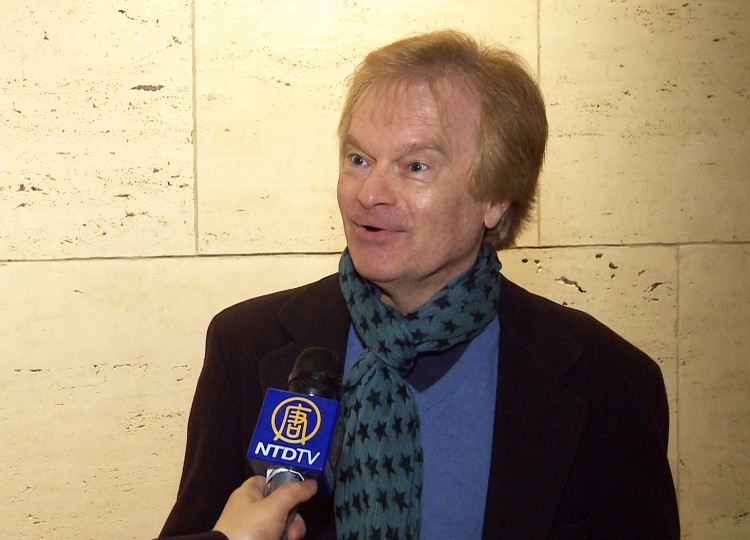 NEW YORK—Shen Yun wrapped up its opening night at Lincoln Center's David H. Koch Theater with two curtain calls and a standing ovation. Among the lively crowd was Jon Mikel Zeigler, a producer of corporate events. "I thoroughly enjoyed it," he said.
"I think [Shen Yun] is a wonderful extension of Chinese culture and I hope more people in New York City and across the country get the opportunity to experience it." Zeigler said. "Most of us don't really have an idea of the history, and particularly the arts in China. Hopefully that can be spread as more people get to see it."
New York-based Shen Yun's mission is to revive 5,000 years of traditional Chinese culture, after it was all but lost after 60 years of communist rule. "Classical Chinese dance is at the heart of the performance," says Shen Yun's website, "along with brilliant costumes, breathtaking projection, and an orchestra that combines both classical Western and Chinese instruments."
Zeigler was particularly intrigued by the animated backdrop that accompanies the dances. "The backdrop was very creative, the way they incorporated the live performance with the video aspect of it," he said.
Shen Yun uses state-of-the art graphics technology to help transport the audience from mist-laden Himalayan peaks to the southwestern Qiang ethnic group and their bountiful harvest. The landscapes emulate China's intricate culture through geography, society, regions, and dynasties. 
"It was very entertaining, and not only from a dance point of view," Zeigler said, noting the extravagant costumes.
Shen Yun's costumes range from a warrior's armor to the Mongol's bright, calf-length gowns—the del—which keeps them warm on the plateau, explains Shen Yun website. 
"The colors and the costumes were all beautiful," he said, "and the synchronicity of all the dancers."
Reporting by NTD Television and Amelia Pang
Shen Yun Performing Arts, based in New York, tours the world on a mission to revive traditional Chinese culture. Shen Yun Performing Arts Touring Company will perform at the David H. Koch Theater at Lincoln Center through April 22.
For more information visit ShenYunPerformingArts.org