Two new studies released this week have further suggested there is a link between mRNA COVID-19 vaccines and heart inflammation cases—coming after federal health officials added warnings to Moderna's and Pfizer's shots.
A study from Duke University, released in JAMACardiology, looked at four cases of myocarditis, which refers to an inflammation of the heart muscle, that occurred within five days of COVID-19 vaccination between Feb. 1 and April 30.
"All 4 patients had received the second dose of a messenger RNA (mRNA) vaccine, presented with severe chest pain, had biomarker evidence of myocardial injury, were hospitalized, and had cardiac magnetic resonance imaging findings typical of myocarditis," said researchers, concluding that there is a possibility of an association between the health condition and the shot.
Federal health officials have said the risks of developing heart inflammation are outweighed by the benefits of the COVID-19 vaccine. COVID-19 is the illness caused by the CCP (Chinese Communist Party) virus.
The researchers, who noted that as of now, "causality cannot be established, reported that three of the patients were men aged 23 and 36, and the fourth one was a 70-year-old woman. Two cases involved individuals who received the Pfizer shot and the other two received the Moderna shot," they said.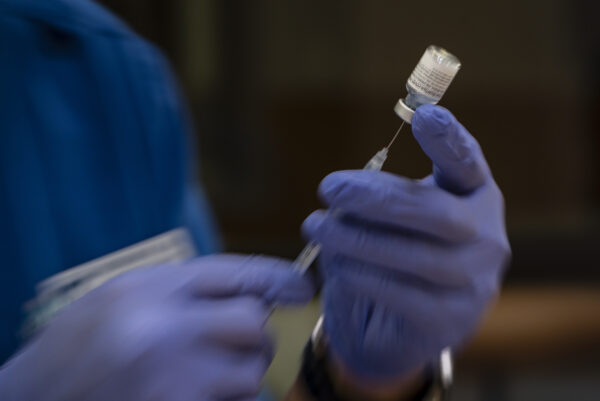 The four patients, researchers said, reported severe acute chest pain, had abnormal electrocardiogram results, and displayed evidence of heart tissue injury.
Further investigations and studies are needed to determine a link between the mRNA vaccines and heart inflammation.
Another study, which also was published in JAMACardiology, from the U.S. Military Health System was released this week and evaluated 23 individuals who suffered from myocarditis four days after getting their shots.
"In this case series," the U.S. military researchers said on June 29, "myocarditis occurred in previously healthy military patients with similar clinical presentations following receipt of an mRNA COVID-19 vaccine."
Researchers reported that the number of myocarditis cases, while relatively small, was higher than expected among military members after a second dose of the vaccine. The military administered nearly 3 million doses of mRNA vaccines during the evaluated time period, the study stated.
And like the Duke University researchers, the military researchers called for more surveillance and evaluation after COVID-19 vaccines are administered.
"Potential for rare vaccine-related adverse events must be considered in the context of the well-established risk of morbidity, including cardiac injury, following COVID-19 infection," they wrote.
Several days ago, the U.S. Food and Drug Administration added a warning about the potential risk of developing heart inflammation to the Pfizer and Moderna vaccines, which came after the Centers for Disease Control and Prevention reported it found more cases of heart inflammation among young adults and children.
On June 25, the agency wrote that it would add revisions to its patient and provider fact sheets about the "increased risks of myocarditis (inflammation of the heart muscle) and pericarditis (inflammation of the tissue surrounding the heart) following vaccination" using the Pfizer or Moderna COVID-19 shots.
Pfizer and Moderna officials didn't immediately respond to a request by The Epoch Times for comment.