American passengers who were evacuated from a cruise ship in Japan have landed in the United States, and officials have confirmed that at least 14 have been diagnosed with the new virus that's triggered lockdowns and supply chain slowdowns in mainland China.
More than 300 U.S. citizens and their family members were transported back after being subject to a quarantine on the Diamond Princess cruise ship starting from early February. The ship was placed under medical isolation after Japanese health officials confirmed a Hong Kong man had contracted coronavirus, which causes COVID-19, apparently infecting other passengers and crew.
"These individuals were moved in the most expeditious and safe manner to a specialized containment area on the evacuation aircraft to isolate them in accordance with standard protocols," said a statement from the Department of State about the evacuation flight. The infected passengers were isolated from the others on the plane during transit.
Photos and video footage showed two chartered cargo jets carrying the passengers from Tokyo's Haneda Airport to California's Travis Air Force Base and Lackland Air Force Base in Texas. According to U.S. officials, the passengers will have to undergo a mandatory 14-day quarantine after spending nearly two weeks on board the cruise ship.
We are grateful to the government of Japan for their extraordinary care, hospitality, and assistance facilitating the care and return of our citizens. https://t.co/W6IRvWbVZ7

— NSC (@WHNSC) February 17, 2020
"All passengers are being closely monitored by medical professionals throughout the flight, and any who become symptomatic will be moved to the specialized containment area, where they will be treated," said the State Department before the planes landed at the two bases.
Now the passengers "will remain under quarantine for 14 days" while passengers that developed symptoms during the flight and tested positive have been "transported to an appropriate location for continued isolation and care," said the State Department.
As of Monday, about 454 people were confirmed to have been infected, according to Japanese officials, who announced Monday that 99 new cases of COVID-19 were discovered on the Carnival Corp.-owned vessel, reported Japanese public broadcaster NHK.
Hong Kong, Canada, and Australia announced they would implement similar evacuation flights for its citizens. When they arrived in their respective home countries, the passengers would have to undergo a second 14-day quarantine.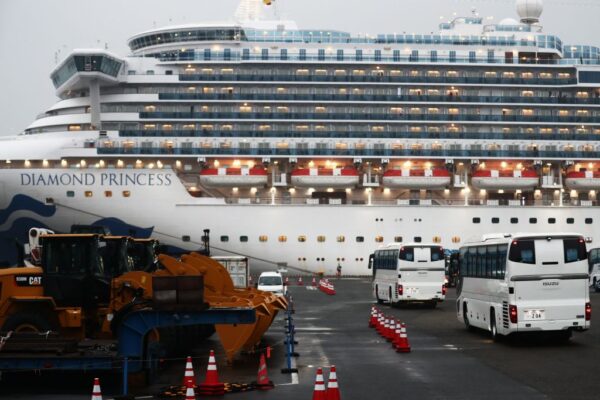 The State Department previously sent several chartered flights to COVID-19 epicenter Wuhan in China, where thousands of people are believed to have been sickened, evacuating hundreds of Americans. One batch of evacuees already completed their quarantine earlier this month at the March Air Base in Riverside County, California, with health officials saying none of the passengers tested positive for the virus.
Inside China, netizens and citizen journalists have accused the ruling Chinese Communist Party (CCP) of engaging in a mass cover-up of the true scope of the virus, while some outside experts have questioned the veracity of the number of cases being reported in China. Several weeks ago, online anger erupted after a Wuhan-based doctor, Li Wenliang, who initially tried to warn others about the SARS-like virus, died after he was silenced by the CCP.
What's more, videos and reports that have circulated on social media show what appear to be human rights abuses at the hands of Chinese authorities. A U.S.-based website reported that a prisoner of conscience—said to have been tortured by CCP officials—was placed in a COVID-19 quarantine zone in an apparent attempt to cover up his abuse.