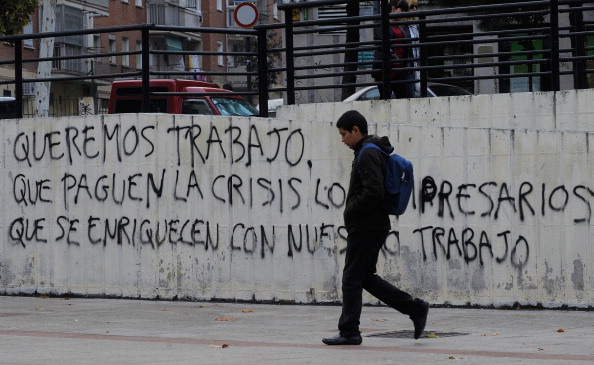 Unemployment within the eurozone has reached an all-time high of 10.7 percent since the euro currency was introduced in 1999, figures on Thursday show.
The data shows that an additional 185,000 jobs were lost in December, according to Eurostat, the statistics provider for the European Union. From December to January, the unemployment rate increased by about 0.1 percent, with around 16.9 million people out of work across the 17-nation euro area.
In January 2011, the unemployment rate was 10 percent.
In Spain, the unemployment rate rose to 23.3 percent in January, which is the highest in the currency bloc. Also in Spain, nearly 50 percent of young people under age 25 are out of work. Greece was second, with a 19.9 percent overall unemployment rate.
The situation, however, was much different in Austria, which had a 4 percent unemployment rate—the lowest in the eurozone, according to Eurostat. The Netherlands posted a 5 percent unemployment rate and Luxembourg has a 5.1 percent unemployment rate.
"There's a huge divergence between the feel-good factor in the stock market and what's happening in the real economy," Steen Jakobsen, the head economist with Saxo Bank, told Reuters.
"For all the money the European Central Bank is printing, there isn't yet a big boost for companies in terms of credit," he added.