European Parliament Seminar Focuses on Human Rights in China
October 23, 2005 12:00 am Last Updated: August 21, 2015 5:41 pm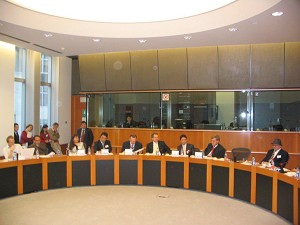 BRUSSELS—A seminar held inside the European Parliament in Brussels Wednesday focused on human rights abuses in China. The event, featuring prominent Chinese defectors Mr. Chen Yonglin and Mr. Hao Fengjun, was hosted by Dr. Charles Tannock, Vice-President Subcommittee on Human Rights, and Mr. Simon Coveney, Rapporteur of the Annual Report on Human Rights in the World 2004.
Mr. Chen Yonglin had been a diplomat at the Chinese Consulate in Sydney before dramatically defecting to Australia in May in order to seek freedom for him and his family.
"Life in the Chinese Consulate is like a prison," he said. "People have to monitor each other and ask for approval to leave the building. Each week there is a half-day brainwashing session."
Chen spoke of the connection between abuses in China and spying overseas. Stating that the Chinese Communist Party's campaign against Falun Gong in China is systematic, Chen added that "there are over 1000 Chinese secret agents and informants in Australia who have played a role in persecuting the Falun Gong."
Chen said that in each Chinese mission abroad there is at least one political-affairs diplomat whose job is to monitor overseas dissidents publicly and to put pressure on the relevant foreign government offices to restrict their activities.
"China has sent intelligence agents to its missions under the cover of diplomats in most of the important cities around the world," he said.
Mr. Hao Fengjun had worked as an intelligence agent. Before he left China for Australia in February, Hao was responsible for analyzing reports gathered by overseas informants.
Mr. Hao had also served as a senior police officer of the "6-10 Office" in China, a plain-clothed police unit created in 1999, and leaked copious documents about the entity when he left China.
"'6-10 Office' is an organization above the law that targets and persecutes different religious groups and dissidents," he said. Hao added that the office commits serious human rights violations in China and monitors individuals around the world.
"The Chinese authorities deny the existence of this agency," he said.
The same authorities also deny any abuses of Christians in China. But Mr. Willy Fautre, Director of Human Rights without Frontiers, traveled to China on a fact-finding mission and spoke about its findings at the Brussels seminar. Fautre testified that he had met members of underground churches in China who said that they were constantly under threat. Even members of the state-controlled churches said that they were monitored and harassed.
Fautre translated his findings into policy recommendations. "Considering the lack of progress made by China in the area of individual human rights, more pressure must be put on Beijing so that it complies with international standards and the embargo on weapons sales should not be lifted until [the regime] has made substantial progress", he concluded.