BRUSSELS—European lawmakers have called for sanctions to be issued against Chinese officials responsible for human-rights abuses and a halt on exports of cyber technology to China.
A group of EU parliamentarians published a new draft resolution that was made public on April 18, urging Beijing to stop its persecution of Uyghur and Kazakh minorities, Falun Gong adherents, Tibetans, and Christians.
It also seeks an end to arbitrary detentions of members of the persecuted groups, the immediate closure of "re-education camps" in the Xinjiang region, and for international observers to be allowed entry into Xinjiang and Tibet.
The motion, which has been tabled by 57 members of European Parliament (MEP) from five political groups, calls on EU capitals "to consider adopting targeted sanctions against officials responsible for the crackdown in the Xinjiang Uyghur Autonomous Region."
It also urges the EU and global partners "to halt all exports and technology transfers of goods and services that are being used by China to extend and improve its cyber surveillance and predictive profiling apparatus."
Up to a million Muslim Uyghurs in Xinjiang Province are being forced to undergo "re-education" in prison camps, according to estimates cited by the U.N. Committee on the Elimination of Racial Discrimination.
European parliamentarians also raised the issue of "increased repression" of Christians in China, with 7,000 crosses taken down from churches in the past year, and many places of worship razed altogether.
The MEPs also asked "for the immediate release of arbitrarily detained people, prisoners of conscience, including practitioners of Falun Gong, and for a stop to be put to enforced disappearances." It added that all individuals must be allowed to select a legal representative, have access to their family and medical assistance, and have their cases investigated.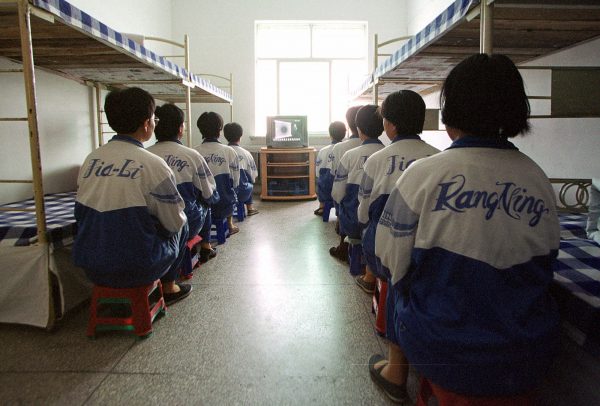 The motion notes that "freedom of religion and conscience has reached a new low point" since the economic reforms of the 1970s, and says China "is home to one of the largest populations of religious prisoners" anywhere in the world.
The EU's foreign affairs chief, Federica Mogherini, warned that "the general human rights situation continues to deteriorate, particularly on civilian and political rights and human rights."
"We have been to the top leaders of the Chinese authorities on human rights and passed on the clear message that for Europeans, human rights are not less important than economic interests," Mogherini said. "No other global power is doing this in the world today … We will continue to advocate for the respect of human rights in China in a very clear manner."
Jo Leinen, an MEP from Germany, pointed to a declaration at the end of last week's 21st EU-China summit stating that human rights are "universal and indivisible," saying the bloc "has to demand that be the case."
"There are very few areas of the world that would actually have the courage to say that, but because of the economic power of the EU, we have to be a standard bearer for human rights and underscore that in discussions," Leinen said.
Reinhard Bütikofer, a fellow German, said he wished all EU leaders would "speak out" against human-rights abuses in China. Some European governments, such as Italy and Greece, have been accused of being too close to Beijing.
"We all know that in the relations between the European Parliament and China, human rights can never be pushed into second place, never can be forgotten," he said.
British MEP Charles Tannock added: "The EU must continue to robustly act to promote respect for the rule of law and human rights in China."
In a joint statement after last week's EU-China summit, Beijing and Brussels agreed to "uphold the U.N. Charter and international law, and all three pillars of the U.N. system, namely peace and security, development and human rights."
They also committed to further "exchanges on human rights at the bilateral and international levels on the basis of equality and mutual respect, including at the U.N. human rights mechanisms."
However, in their motion, the MEPs said the statement didn't go far enough and that in future, if China blocked more committal language on human rights, the EU should refuse to sign a joint declaration and issue its own conclusions instead.