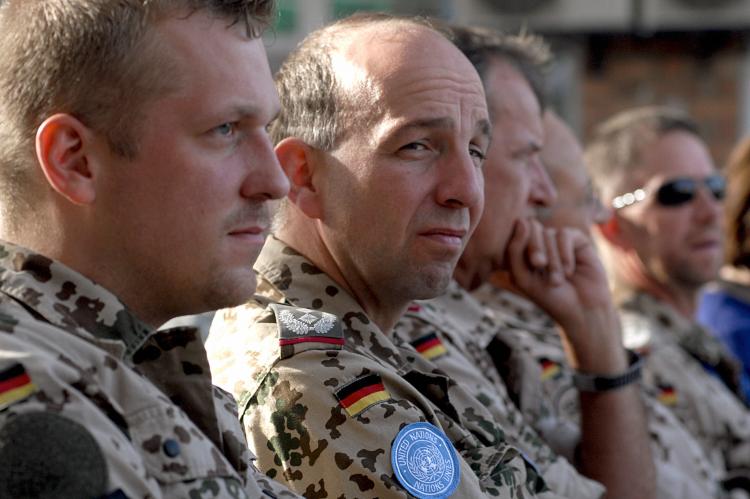 Obama's announcement of a troop surge in Afghanistan resonated across the Atlantic and spurred an immediate welcome across Europe on Dec. 1. NATO allies and other leaders hurried to support the U.S. decision but were reluctant to promise concrete actions.
The new plan includes sending an additional 30,0000 U.S. troops to Afghanistan by the summer of 2010.
Following the terrorist attacks against the U.S. on Sept. 11, 2001, NATO applied Article Five, which says, "An attack on any member shall be considered to be an attack on all."
During his speech on Tuesday Obama cited the Sept. 11, 2001, terrorist attacks, reminding the world why the war is being fought and why new troops are being sent to fight. He also called on NATO and the 43 allied countries in Afghanistan to send more troops.
NATO members felt obliged to join the strategy and officials in Washington are hoping they will add an additional 5,000 to 7,000 troops to the current 42,000 NATO troops in Afghanistan.
Great Britain PM Gordon Brown outstripped Obama, saying the United Kingdom will send 500 more soldiers to Afghanistan. He also pledged to persuade other organization members into sending more troops. The U.K., a prominent U.S. supporter and second in troop contribution, plans to surge its contingent to nearly 10,000 soldiers.
Third largest contingent holder, Germany declared that an eventual decision to deploy more troops could only be possible after the forthcoming NATO meeting in London in early 2010. Quoted by Reuters, Foreign Minister Guido Westerwelle insisted on "taking their time" to review the country strategy, and possibly add to their current contribution of 4,300 soldiers.
"We hear the wishes of the United States, but we will not decide in the coming days. We will decide only after the Afghanistan conference," Chancellor Angela Merkel said, according to The New York Times.
France took a similar stance and cordially welcomed Obama's speech, which President Nicolas Sarkozy called "courageous, determined, and lucid." Being a NATO member, France is the fourth largest participant in Afghanistan with 3,750 troops. Sarkozy signaled that his earlier stance of not sending more troops may be reconsidered following the discussions on Jan. 28.
Italy, which has 2,795 troops in Afghanistan, is the fifth largest ally against the Taliban and al-Qaeda. The country's Foreign Minister Franco Frattini refused to give concrete figures but promised to contribute as well as urge other countries to follow suit. At the same time he stressed the need to balance governmental policy with public opinion, which is rather skeptical.
Other NATO countries including Denmark, Norway, Poland, and the Czech Republic said they also need to time to rethink their military strategy, but are generally ready to send more troops.
In a Dec. 2 declaration, the European Union (EU) declared itself, "Ready to work closely with the United States," and welcomed the announcement by Obama that the "U.S will further reinforce its engagement, as part of its continued commitment to Afghanistan."
EU officials expressed confidence that a comprehensive approach should be applied in order to follow the challenges in Afghanistan. They believe a combination of political, military, and civilian strategies should be used to enable the government of Afghanistan to gradually assume full responsibility for the stabilization and development of its country.
At the same time the EU is placing emphasis on international strategies under the U.N. Assistance Mission in Afghanistan. According to the Oct. 27, 2009, Plan for Strengthening EU Action in Afghanistan and Pakistan, the EU remains determined to enhance its engagement in Afghanistan.