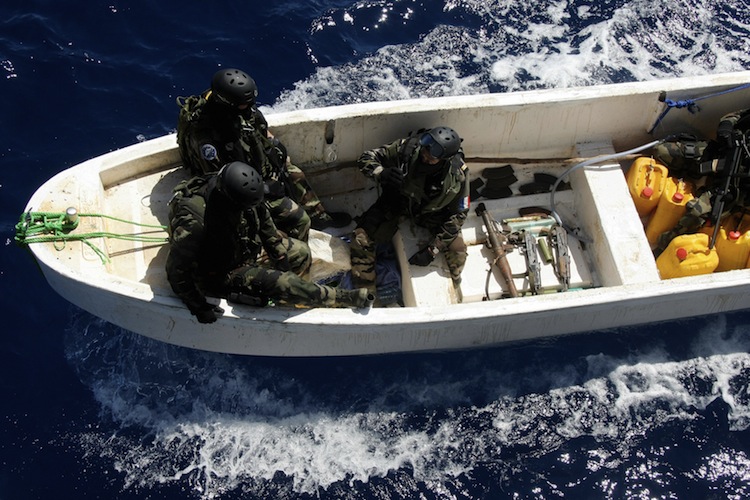 The European Union anti-piracy unit struck a Somali pirate base for the first time on Tuesday, using an attack helicopter to strike pirate-owned boats used to carry out kidnappings.
"The focused, precise, and proportionate action was conducted from the air and all forces returned safely to EU warships on completion," a statement from the EU Naval Force reads. It added that no Somalis were injured or killed ashore in the raid.
No EU soldiers were deployed on land and the statement stressed that the action is meant to disrupt pirate activity along the coast.
"We believe this action by the EU Naval Force will further increase the pressure, and disrupt pirates' efforts to get out to sea to attack merchant shipping and dhows," Rear Adm. Duncan Potts with the EU said in the statement.
A dhow is a sailbout where the sail runs the length of the boat.
"The local Somali people and fishermen—many of whom have suffered so much because of piracy in the region, can be reassured that our focus was on known pirate supplies and will remain so in the future," Potts added.
The operation was conducted under the authority of United Nations Security Council Resolution 1851 and was fully supported by the Transitional Federal Government of Somalia, according to the EU.
Somali pirate bases run the entire length of the coastline of the war-torn country that has gone without a stable, centralized government since 1991. According to a report last month from the International Maritime Bureau, piracy has gone down in the region in 2012; but pirates still pose a threat to vessels traveling though the Gulf of Aden and in the Indian Ocean.
The pirates have attacked ships as far away as 1,750 miles from the Somali coast.