BRUSSELS—Amid new calls for a continent-wide response to state-sponsored digital security threats, senior figures in Brussels have vowed to beef up Europe's cyber defenses in a coded warning to Chinese telecom giant Huawei.
The European Union's security commissioner, Julian King, said regulators wouldn't "walk away" from the challenge and insisted it was "entirely legitimate" for the bloc to take action to defend itself.
Hungary, meanwhile, often considered the black sheep of the club, called for an "all European" diplomatic response to China over the deepening security scandal and warned the continent is now "lagging behind" on technology.
The remarks came after Beijing's envoy to Brussels, Ambassador Zhang Ming, accused the EU of "slander" and "discrimination" and said it had "fabricated a security story" in an interview with The Financial Times.
French European Affairs Minister Nathalie Loiseau also said Jan. 28 that Europe needs to take a unified stance on Huawei. "Talking to China, we can't do it each state on its own. … we should act as Europe," Loiseau said.
On Jan. 28, U.S. prosecutors announced 23 new charges against Huawei, with 13 of the charges also targeting the company's chief financial officer, Meng Wanzhou; the charges include bank fraud, obstruction of justice, and theft of technology.
The emerging details have jangled nerves in Europe, but so far, the bloc's response has been disjointed. France, Germany, and the UK have all issued statements expressing concern but other states are said to be afraid of offending Beijing.
Germany has separately said it's now actively considering banning Huawei from providing 5G technology in the country over security fears, prompting a furious response from the company.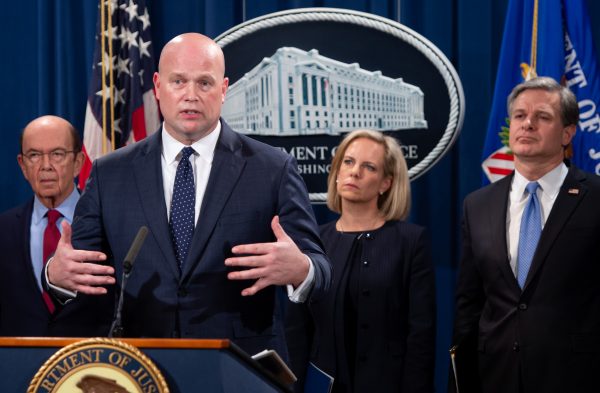 Asked about the arrest of Meng, King said while he doesn't want to comment on individual cases, the issue of "digital resilience" is very important, he said.
"It's an entirely legitimate European concern to try and take measures to reinforce our digital resilience because, after all, that digital resilience is crucial for protecting the business of our governments, industrial research, intellectual property, business plans, our elections, democratic institutions, as well as our own personal data," King said. "We're not going to walk away from this issue."
Concerns
The announcement of the U.S. charges against Huawei rocked the government of Malta, which signed a contract with the company last October to provide 5G services across the tiny island of fewer than half a million inhabitants.
"Does Malta have the means to check on this and keep Huawei in check?" said Martin Cauchi Inglott, a member of the European Parliament for the Democratic Party. "Is our security, and that of Europe, under threat, considering that this global technology powerhouse has been repeatedly caught as having different intentions from its stated objectives?"
In a sign of growing concerns on the continent, this week Budapest also called for a rethink on the bloc's digital security and said it would push for a more coordinated Europe-wide response to the emerging threat. According to the European Council on Foreign Relations, Huawei has made Hungary its launchpad in Europe, where it has 2,500 employees.
"We've been the first among those who have urged that Europe should be building its own capacity to deal with these technological issues," said Zoltan Kovacs, the international spokesman for the Hungarian government.
"When we talk about future of Europe and how to deal with more integration of information technology, there's a huge need for Europe to stand on its own soil and that it's able to establish and then work on its own independence technologically."
Poland, where a Huawei employee was arrested in early January on espionage charges, has also called for a unified EU and NATO stance on Huawei.
However, despite growing impetus behind calls for actions, the EU's 28 member-states remain divided over those who want to take a tough diplomatic line and others who don't want to upset Beijing.
"There's a spectrum of views. Some countries want to be quite hawkish and tough on the Chinese, others are more reluctant to raise malign behaviors," a senior European diplomat said, on condition of anonymity.
"The EU, to be candid, doesn't have an established policy and we need to discuss whether to frame a tougher message on this or not."
With a file from Reuters.