BRUSSELS—The European Union's top diplomats vowed Monday to uphold sanctions against Russia for destabilizing conflict-torn Ukraine.
Determined to wait no longer for a clear message from Washington, EU foreign ministers said their economic sanctions must remain in place until Russian President Vladimir Putin respects his promise to work for a cease-fire in eastern Ukraine and ensure that heavy weapons are withdrawn from border areas.
EU foreign policy chief Federica Mogherini underlined that the EU will never recognize Russia's 2014 annexation of the Crimean Peninsula, and insisted all sides must respect the Minsk peace agreement aimed at ending the fighting in eastern Ukraine between government forces and Russia-backed separatists.
"I cannot say where the U.S. administration stands on this, but I can say where the Europeans stand on this," Mogherini said.
Fighting has escalated over the past week in eastern Ukraine, killing at least 36 people, including civilians, and wounding dozens. More than 9,800 people have died since the war began in 2014.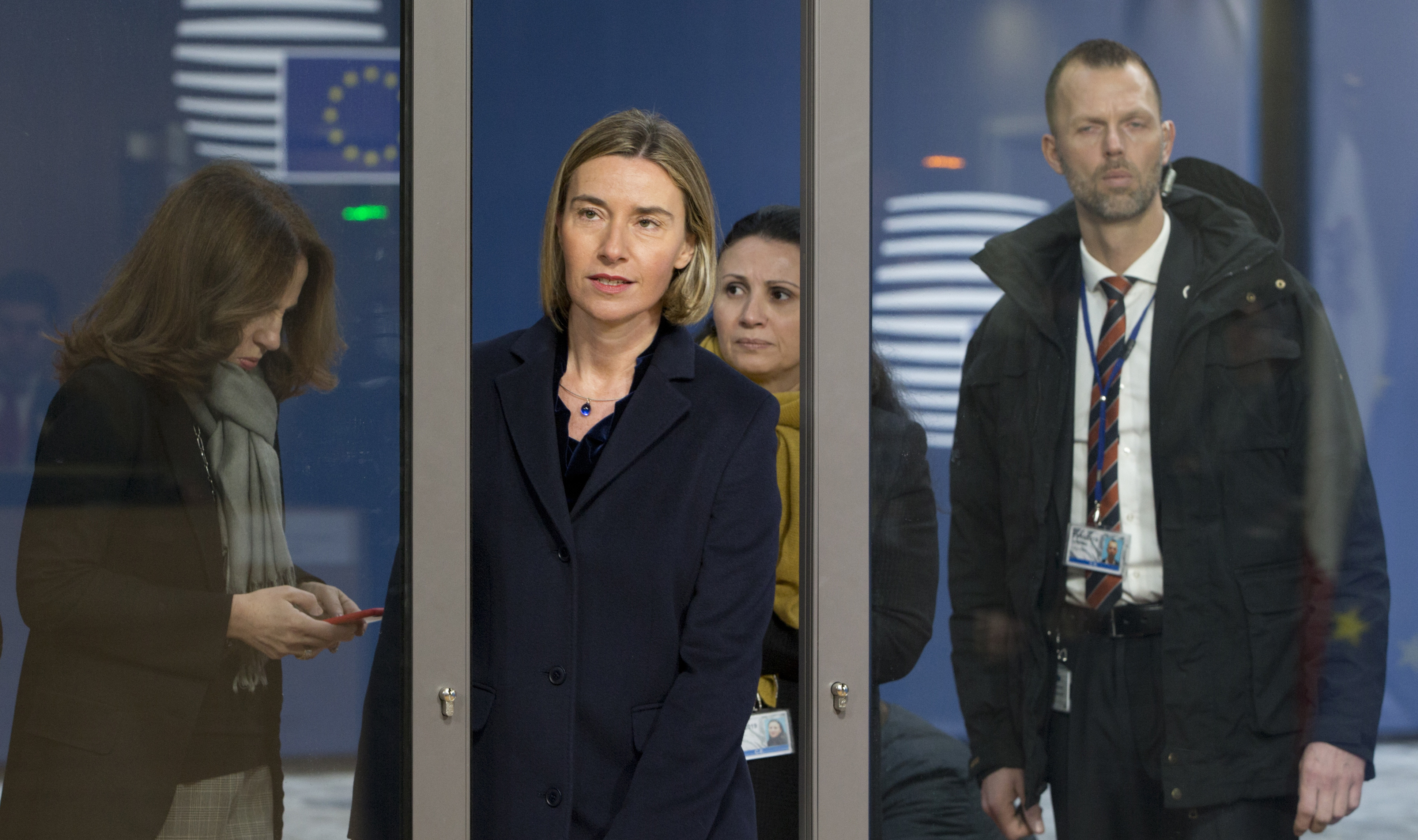 The EU imposed a series of rolling economic sanctions against Russia in July 2014. They include economic and diplomatic measures, like the cancellation of top meetings, and travel bans and asset freezes on people linked to the annexation of Crimea or accused of interfering with Ukraine's territorial integrity.
Some of those measures were renewed in December until July 31.
"The U.K. will be insisting that there is no case for the relaxation of the sanctions, every case for keeping up the pressure on Russia," British Foreign Secretary Boris Johnson said.
Lithuanian Foreign Minister Linus Antanas Linkevicius described the developments in eastern Ukraine as "highly unpredictable."
"It could erupt at any time," he said. "The sanctions must be preserved, to say the least. We see no reasons why we should lift our review. We see no improvement."
Danish Foreign Minister Anders Samuelsen said he was reassured by declarations from the new U.S. ambassador to the United Nations, Nikki Haley, suggesting that sanctions over Crimea will remain in place.
"If the Americans change direction – I don't think they will – EU will have to play a stronger role," Samuelsen said.
The past has shown, he warned, that "every time there is a vacuum, someone will step in and fill the void."