BRUSSELS—The European Union is accelerating plans to make itself less reliant on imports after being spurred into action by the COVID-19 pandemic and international trade tensions, as well as the risk of takeover of European firms by state-funded Chinese companies.
Leaders from the bloc's 27 countries are holding a first major discussion on how they can work together to achieve greater "strategic autonomy" from outsiders at a summit in Brussels this week.
The talks pit traditionally free-trading nations in the north of the continent, such as the Netherlands and Ireland, against France and those in the south who favor tighter restrictions.
They come after European Council President Charles Michel warned that the continent is surrounded by an "arc of instability," including Turkey, Syria, Russia, Northern Africa, and even Britain.
Senior officials in Brussels say geopolitical tensions, combined with the economic fallout from the pandemic, mean Europe needs to be more assertive in defending its interests on the world stage.
They want to weaponize the clout of the bloc's Single Market, with a consumer base of 450 million people, and better use access to it as leverage in negotiations with Beijing, Washington, and other key capitals.
As part of the plan, the EU Commission has put forward plans for a major crackdown on takeovers of European companies by foreign entities that receive state funding, in a clear defensive move against China.
This week, the bloc's executive also launched a new drive to lessen its dependence on other parts of the world for raw materials such as rare earths, which are crucial for its ambition to build a digital economy.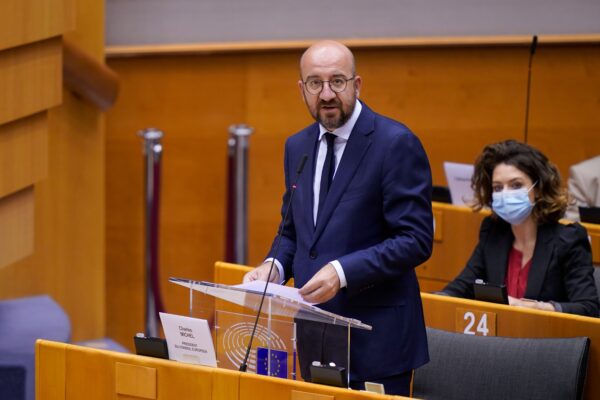 "COVID-19 has undoubtedly revealed some of the EU's weaknesses," Michel said in a letter to leaders ahead of the summit.  "But I believe we should turn this into an opportunity, critically assessing together how to make the EU more resilient."
However, some traditionally free-trading countries fear the agenda may descend into protectionism and want it limited to specific areas such as preventing unfair foreign investment and securing domestic medical supplies.
A senior European diplomat from one such nation, speaking on condition of anonymity, said: "The primary objective is to have an open economy, not a strategic autonomy.
"We also want to be resilient against partners in the global economy which don't have the same rules of the game, where for example they subsidize their own companies to be able to buy companies on the European market."
Another European diplomat added, "The discussion really revolves around a possible protectionist agenda for the EU, or should the EU remain an open economy committed to free and open international markets."
The EU's struggle to act on the world stage has been demonstrated in recent times by its inability to deal with two huge crises on its doorstep, in Belarus and the Eastern Mediterranean.
Leaders are going into the summit on Oct. 1 still unable to levy sanctions against Belarusian leader Alexander Lukashenko because measures are being held up by Cyprus, which wants greater support in its own dispute with Turkey.
Canada and the United Kingdom have pressed ahead with travel bans and asset freezes against Lukashenko and senior members of his regime on their own, prompting embarrassment in Brussels.
Guy Verhofstadt, a former Belgian prime minister and senior member of the European liberals, said the impasse was "killing the EU's credibility" on the global stage.
Meanwhile, a new Belgian government, formed on Sept. 30 after 15 months of coalition talks, has put European strategic autonomy and ending unanimity voting on EU foreign policy decisions at the heart of its work program.