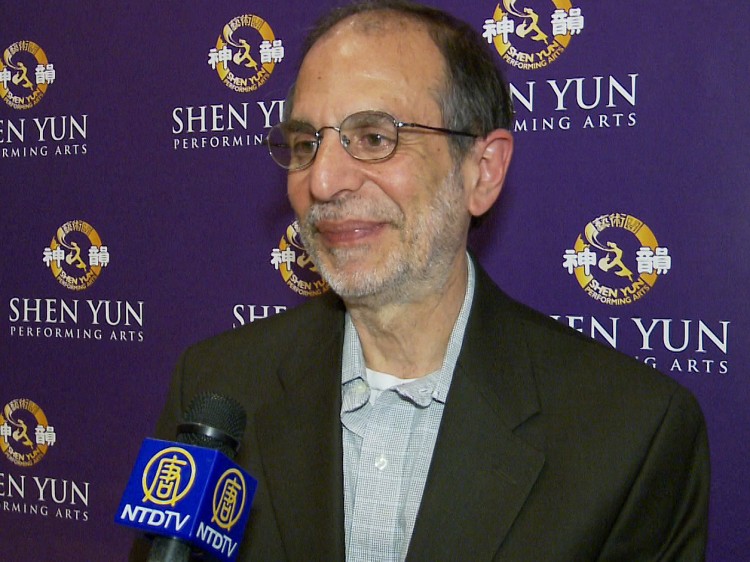 NEW YORK—After Shen Yun Performing Arts graced the stage at Lincoln Center's David H. Koch Theater on Friday evening, Robert J. Cava, esteemed Princeton Chemistry professor was left enchanted.
"There were a few things in the show that really touched my heart," said Mr. Cava, who in January was awarded a Alexander von Humboldt Foundation Research Prize and will be going to Germany for an extended research stay this year.
Among the dances that Mr. Cava connected with were Lotus Leaves and Sleeves of Silk.
"Classical Chinese dance uses what are known as "water sleeves" for some of its loveliest expressions," Shen Yun's program book says of Sleeves of Silk. "Acting as extensions of a dancer's arms, these sleeves linger in the air long after a movement is finished."
'The one with the long, silk arms was a beautiful, spiritual dance," said Mr. Cava. And of the other dance, he said, "I think the one with the lotus flowers was a beautiful dance that touched our spirits."
Classical Chinese dance is at the heart of Shen Yun's performance, with the dancers, adorned with handcrafted, colorful costumes accompanied by digital backdrops and an unique orchestra that joins East and West in all-original composition.
"We very much enjoyed seeing the difference between the movements in Chinese dance, which are very graceful we thought, and beautiful," said Mr. Cava. "We enjoyed the many, many different aspects of the dance."
The dance system is one of the most comprehensive in the world, explains Shen Yun's website, requiring training in fundamentals, movements and postures, and very difficult jumping and tumbling techniques, according to the company's website.
"Dance is a wonderful thing because there are beautiful moments in it and you can see the beautiful moments in this dance," said Mr. Cava. "They're really nice."
Shen Yun was formed with one mission: to revive the 5,000 year-old, divinely inspired culture, along with its principles—such as benevolence, justice, wisdom, respect for the heavens, and divine retribution—after, according to the company's website more than 60 years of communist rule in China "all but completely demolished" this ancient culture.
Mr. Cava expounded on the two messages that he received from the performance.
"The contrast between the long tradition of Chinese culture and current political climate was pretty obvious to all of us," he said. "Chinese culture is beautiful and that it's not something that we get to see every day this way, now in the modern world."
Reporting by NTD Television and Zachary Stieber.
Shen Yun Performing Arts, based in New York, tours the world on a mission to revive traditional Chinese culture. Shen Yun Performing Arts Touring Company will perform at the David H. Koch Theater at Lincoln Center through April 22.
For more information, visit ShenYunPerformingArts.org.