ESPN pundit Stephen A. Smith criticized Colin Kaepernick this week for his handling of an NFL-arranged workout session.
Regarding the workout, Kaepernick's camp changed locations "three hours before the workout," Smith said.
"Because of some issue with a liability waiver, Colin Kaepernick wants to change the venue, Colin Kaepernick wants his own receivers, Colin Kaepernick wants to video things himself, Colin Kaepernick… wants the media available," Smith said.
The longtime sports pundit and writer then opined that Kaepernick doesn't want to actually play for an NFL team. Kaepernick has previously denied similar allegations, saying that he's been ready for several years.
"You see? He don't wanna play. He wants to be a martyr. But, guess what? It ain't working this time. All of us believe Colin Kaepernick would have sold out. And if he had sold out, I believe he would have had a job in two weeks," he added.
"But it didn't happen because he didn't show. He wanted to show up to a high school in Georgia—not an NFL facility, a high school. And then YouTube it live. Like, the average Joe out there gets to decide if he's on the NFL roster. You don't want to work, you just want to make noise and control the narrative. It's over—Colin Kaepernick's aspiration for an NFL career. It is over."
The ESPN host posted the video on social media after Kaepernick canceled his NFL-hosted workout in front of 25 teams on Saturday at the Atlanta Falcons training facility before moving the workout to a Georgia high school.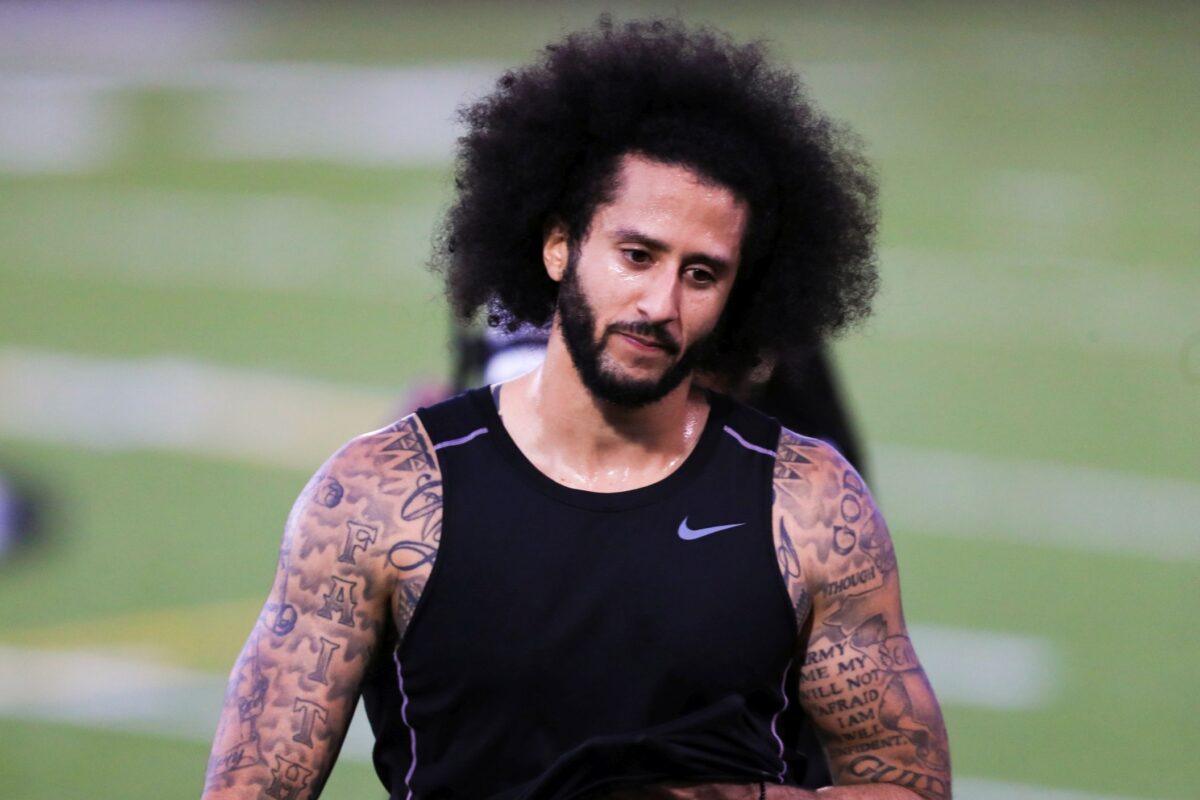 Kaepernick, formerly a quarterback for the San Francisco 49ers, hasn't played since the 2016 season and has said he was blacklisted by teams because he kneeled during the playing of the national anthem. He later sued the NFL for collusion and settled for an undisclosed amount.
Following the workout, the 31-year-old said he moved the workout for "transparency" purposes.
"I've been ready for three years, I've been denied for three years," he said, reported ESPN. "We all know why I came out here, showed it today in front of everybody. We have nothing to hide. So we're waiting for the 32 owners, 32 teams, Roger Goodell, all of them stop running. Stop running from the truth. Stop running from the people. We're out here, we're ready to play. We're ready to go anywhere. My agent, Jeff Nalley, is ready to talk to any team. I'll interview with any team at any time. I've been ready."
But the NFL criticized the last-minute change in venue.
"We are disappointed that Colin did not appear for his workout," the NFL said in a statement, reported ABC News. "He informed us of that decision at 2:30 p.m. today along with the public."
It said that 25 teams were present at the original workout, but only a few were present at the new location.
"Colin's decision has no effect on his status in the League. He remains an unrestricted free agent eligible to sign with any club," the NFL said in a statement.