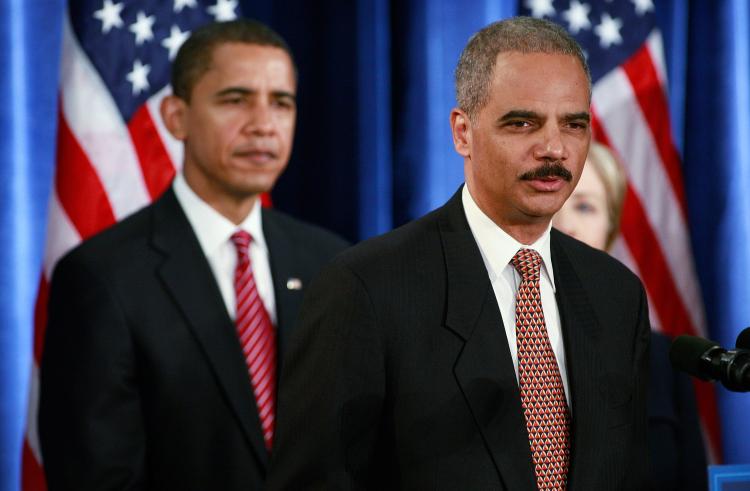 President-elect Barack Obama's choice of Eric Holder for attorney general has received both applause and criticism due to decisions and statements made by Holder when he served as deputy attorney general during the Clinton administration.
Holder gained the favor of many Democrats by denouncing the Bush administration's warrant less wiretapping program and his call to close the detention center at Guantanamo Bay, which he has referred to as an "international embarrassment."
Republicans on the other hand, have questioned whether Holder is up to the job. Among the issues being brought up are Holder's part in the Clinton pardon of Marc Rich, a billionaire financier who engaged in one of the largest cases of tax fraud in U.S. history before fleeing to Switzerland.
Rich had been close to the Clintons and had donated heavily to the Clinton Library. Critics on the right have questioned whether the pardon was issued out of personal interest. Democrats however have blamed the former President, as it was Clinton who made the final decision on the pardon.
Peter Flaherty, president of the National Legal and Policy Center (NLPC), a non-profit organization that monitors and reports on the ethics of public officials, explained in a phone interview that the choice of Holder as the attorney general was a bad move.
"Holder is ethically unqualified to serve as the attorney general," said Flaherty. "[He] is reliable to do what is politically expedient, not what is right or proper."
In addition to the pardon of Rich, another cloud of controversy surrounds Holder. On December 21, 1994, he was asked by Federal Judge Royce Lamberth to investigate Ira Magaziner, Clinton's former healthcare advisor, for possible perjury and contempt of the court. At the time, Holder was serving as the attorney for the district of Columbia and took no action on the judge's request.
"Usually when a federal judge does that it gets prosecuted," said Flaherty. "Holder has a long track record and it's easy to examine. It's one of doing what's best for his benefactors rather than what's right for the country."
Democrats have voiced a different opinion. Reverend Jesse Jackson announced that he strongly endorses Eric Holder as the attorney general. In a Nov. 19 press release of the Rainbow PUSH Coalition, of which he is the president, Jackson brought up some of Holder's positive actions.
Of note was Holder's tackling of numerous political corruption cases, such as that of former democrat U.S. House Representative Dan Rostenkowski, who was sentenced to 17 months in prison for mail fraud in 1996.
"As attorney general, Eric Holder could help the president regain trust and respect from countries around the world whose peoples have come to question how a just country like America could tolerate what we've seen at Guantanamo and elsewhere," said Jackson.
"Since he first joined the Justice Department fresh out of Columbia University Law School more than three decades ago, Eric Holder has demonstrated qualities of intellectual strength, leadership and integrity," said Jackson. "This is the perfect candidate to transform and reform a department that has been been tainted by politics in recent years and has strayed from its mission of seeking justice for all."
Holder is still awaiting the confirmation hearing that will decide whether or not he will be appointed to the position. If he is confirmed, he will be the first African-American attorney general in the United States.