The Senate Committee on Environment and Public Works (EPW) deadlocked 10–10 on April 7 regarding the nomination of Carlton Waterhouse to serve as assistant administrator for the Office of Land and Emergency Management in the Environmental Protection Agency (EPA)—although a motion by Senate Majority Leader Chuck Schumer (D-N.Y.) could still send it to the Senate floor.
Waterhouse—a law professor and international expert on environmental law and environmental justice—was renominated for the position this year by President Joe Biden, following a 2021 nomination that stalled. Senators also deadlocked 10–10 in an December EPW meeting that considered Waterhouse's nomination.
But a Senate rule allowed the nominations of Waterhouse and other Biden nominees to be returned to the president in January. Biden sent back Waterhouse's nomination to the Senate, which rereferred it to the EPW committee.
The Office of Land and Emergency Management handles the EPA's waste and emergency response programs, including cleanups of hazardous spills and the placement of wind or solar power on contaminated sites.
In a September hearing on Waterhouse and other Biden administration nominees, senators discussed his qualifications for the role.
"He spent years in the 1990s working as an EPA attorney and acting on behalf of vulnerable communities that have suffered from the impacts of industrial waste, receiving the agency's bronze star award four times for his work," EPW Chair Sen. Tom Carper (D-Del.) said at that meeting.
"Mr. Waterhouse would be an asset to the Office of Land and Emergency Management in assisting communities confronted by the dangers of contaminated sites and making sure their voices are heard in government."
Waterhouse currently serves as a law professor at Howard University School of Law. His homepage indicates that he has a doctorate in social ethics and a Master of Theological Studies degree, both from Emory University.
"After leaving EPA, I pursued my doctorate in social ethics to learn how to create laws and policies that treated people rightly and promoted justice for all. As a law professor, I have focused my research and writing on correcting environmental and other social injustices," Waterhouse said in a written statement to the EPW committee in September 2021.
Ranking GOP committee member Shelley Moore Capito (R-W.Va.) raised questions about some of Waterhouse's past public comments. She drew attention to a Twitter post from Waterhouse in 2015.
"The ugly truth about energy. The ends don't justify the means," Waterhouse wrote, hashtagging #ResistCapitalism, among other hashtags.
"To be honest, I don't recall that Tweet," Waterhouse told Capito at the September 2021 hearing.
A search of #ResistCapitalism and Waterhouse's Twitter handle, @CarltonWJD, by The Epoch Times showed at least 13 Twitter posts from Waterhouse using the hashtag.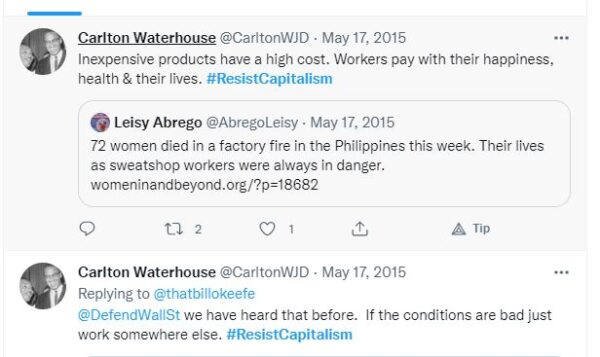 "I think it would have been in some context, Senator, that has to date [back] for several years. As I said, I am not really active on Twitter. I am not sure what it was referencing," Waterhouse said in September 2021, in response to Capito's questioning.
"But I can say this, Senator, that I recognize the value of capitalism as a way of making sure that goods and services are made available to people. I think reasonable and responsible regulation allows us to make sure that people can be safe and protected in the environment and in their daily lives."
Waterhouse also came under fire from Republicans for his calls for the United States to pay 'climate reparations' to other countries, which he made at the American Climate Leadership Summit in 2020.
"Climate reparations is really just calling for the equitable redress for the harm that has been caused historically. That's what it's about—making amends," Waterhouse said at that meeting, as documented in a YouTube recording. "I think climate reparations are essential and an important part of having an equitable climate vision."
At the April 7 hearing, neither Capito nor other senators present commented at length on Waterhouse or on another renominated EPA nominee, David Uhlmann.
Uhlmann's nomination to serve as the EPA's assistant administrator of enforcement and compliance was likewise returned to the Senate by Biden in January.
"I am anxious to see both these talented and dedicated men [Waterhouse and Uhlmann] confirmed, and I'm glad we're finally taking an important step toward that happening in today's process," Carper said.
Capito submitted a written statement reiterating her concerns with Waterhouse's past remarks.
Carper didn't respond to a request for additional comment by press time.
When contacted by The Epoch Times, a spokesperson for Capito directed The Epoch Times to her above-mentioned written statement.
Crucially, the deadlocked vote on April 7 may not spell the end of Waterhouse's nomination. Schumer can file a motion to discharge the nomination from EPW and bring it before the full Senate.
The same maneuver was used to advance the now-confirmed Supreme Court nominee Justice Ketanji Brown Jackson out of the deadlocked Senate Judiciary Committee and before the full Senate.
Schumer didn't respond to a request for comment by press time regarding whether he intends to file a discharge motion for Waterhouse's nomination. The EPW press secretary also didn't respond to a request for comment by press time.