Renowned author, environmentalist, and climate activist Michael Shellenberger has formally apologized to the public for the "climate scare" he says climate alarmists have forced on the public over the past 30 years.
An environmental advocate for 30 years and a climate activist for 20, Shellenberger has previously been invited to provide testimony on climate issues to Congress (pdf), and says he has served as an expert reviewer of an assessment report from the International Panel on Climate Change (IPCC). However, he now says he feels obliged to apologize "for how badly we environmentalists have misled the public."
"Climate change is happening. It's just not the end of the world. It's not even our most serious environmental problem. I may seem like a strange person to say this. I've been a climate activist for 20 years & an environmentalist for 30" – @ShellenbergerMD https://t.co/9knkM6K6AP

— Claire Lehmann (@clairlemon) June 30, 2020
Shellenberger made his apology on the Forbes website on June 28, though the article is no longer available. In a statement emailed to The Epoch Times, the company wrote that "Forbes requires its contributors to adhere to strict editorial guidelines. This story did not follow those guidelines, and was removed."
However, Shellenberger's apology was subsequently published on June 30 by online magazine Quillette, which says it aims to provide a platform for "the free exchange of ideas."
"I am as guilty of alarmism as any other environmentalist," Shellenberger writes in his article. "For years, I referred to climate change as an 'existential' threat to human civilization, and called it a 'crisis.'" However, Shellenberger now says climate change is "not even our most serious environmental problem."
What's Actually Happening to Our Climate?
According to Shellenberger, "Climate change is happening. It's just not the end of the world." For that matter, human activity is not causing mass extinction, and neither is climate change making natural disasters worse, he says.
Shellenberger says that contrary to the assertions of "the climate disinformation campaign," wildfires have been declining worldwide for the past 17 years, and that the actual cause of forest fires in California and Australia was the buildup of wood fuel in forests. He says that just as in the United States, carbon emissions are declining in most wealthy nations, and that France, Germany, and the UK have watched their emissions fall since the 1970s.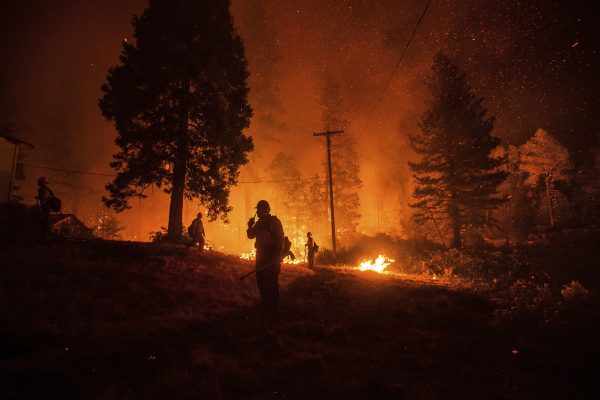 Moreover, the most critical factor for human survival on earth—producing enough food to feed mankind as the population continues to grow—will get easier as temperatures slowly rise. The biggest threat to the wide variety of animal species on earth is habitat loss and hunting, he says.
Shellenberger says that these assertions come from the best scientific studies available, including studies accepted by the Food and Agriculture Organization of the United Nations (FAO) and the IPCC, among others.
The author says he felt compelled to write a book when he felt climate alarmism had gone too far. He cites as his motivation Rep. Alexandria Ocasio-Cortez's (D-N.Y.) statement, "The world is going to end in 12 years if we don't address climate change," and British environmental group Extinction Rebellion's claim that "climate change kills children."
Shellenberger's book, "Apocalypse Never: Why Environmental Alarmism Hurts Us All," makes assertions such as that factories and modern farming methods are key to environmental and human progress, and that 100 percent renewable energy "would require increasing the land used for energy from today's 0.5 percent to 50 percent."
The book also claims that vegetarianism reduces an individual's greenhouse gas emissions "by less than 4 percent."
What's Behind Climate Ideology?
Shellenberger says that the ideology behind climate alarmism is a modern version of Malthusianism, named after the 18th-century British economist Thomas Malthus. According to Shellenberger, Malthus believed that "there were too many poor people out there … and that the ethical thing to do was let them die." Indeed, Malthus welcomed plagues and starvation to reduce the population of the needy poor, he says.
Shellenberger states that he remains hopeful for the future, however. "Nations are reverting openly to self-interest and away from Malthusianism and neoliberalism," he said. "The evidence is overwhelming that our high-energy civilization is better for people and nature than the low-energy civilization that climate alarmists would return us to."